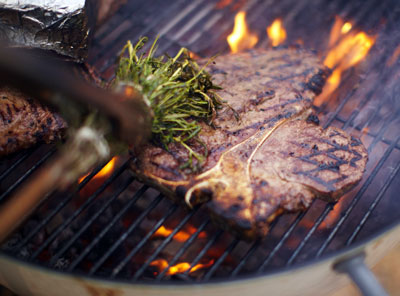 Any night this summer, you'll find me hanging with friends, raising a frosty one in the backyard, while the kiddies run around and the guys flip steaks, burgers and chops. Is there anything better?
I'll be using one of my favorite grilling tools, a do-it-yourself "herb brush" which I use to baste the meat while it cooks. Besides looking cool, it lets you slowly, steadily and subtly layer on the aromatic oils in those herbs, while keeping the meat moist. Using kitchen twine just tie a bunch of fresh herbs (any of your favorites will work: thyme, rosemary, sage, …) to the end of a wooden kitchen spoon. I like a really long spoon and it will make it easier to baste with. And when you are done basting, you can chop up the herbs and add them to baked beans or sprinkle over grilled vegetables—you can't do that with a regular basting brush! Herb brushes are great on beef, and on Fourth of July there's nothing I like more than an over 1-inch Rib Eye. Here's how you do it:
RECIPE: Rib-Eye Cut Over 1"
Serves 8-12
Four-Six Bone-In or Boneless Rib-Eye and/or Strip Steaks cut over 1"
Tools Required:
Meat Thermometer
Bowl
Cast-iron Skillet
10-inch Chef's knife
Grater
Paring knife
Tongs
Cutting board
Techniques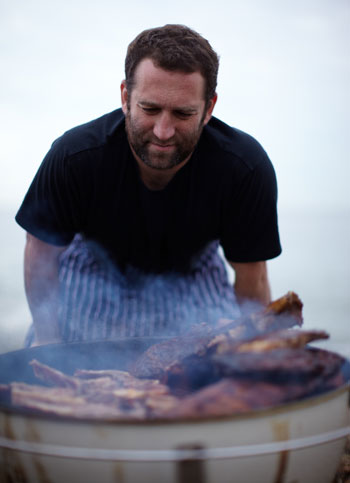 Super Aggressive Season – This applies particularly to direct grilling, because a lot of spice gets rubbed off during cooking.
Season "Like Rain" – This means season loosely, using your hand to sprinkle the salt and/or spice from a distance to evenly distribute it.
Press & Dab – After seasoning, press the salt and/ or spices into the meat with your hand to make sure it's thoroughly coated, then dab up any excess on the board.
Glisten with Oil – "Glisten" means applying a very thin coating of oil to the food to prevent it from sticking and to minimize the amount of oil that will drip into the fire.
Savory Herb Brush
Buddy System: Use some of the pieces of meat to prop up others so you can caramelize and char the less-cooked sides.
Flip – Flip it over to manage caramelization.
Jockey – Move meat to another area
Stack – Stack meat that needs a break from flames on another piece, allows rest. Continues to cook with residual heat.
Board Dressing – This creates extra flavor on your cutting board.
Ingredients
Seasoning
Sea salt or kosher salt
Freshly ground black pepper
Canola oil or vegetable oil
Baste
¼ cup olive oil
4 Tbsp unsalted butter
10 crushed garlic cloves
Combine in a foil pan or heatproof pan and warm on the side of the grill.
Board Dressing (For use after grilling)
Combine:
6 Tbsp olive oil
2 Tbsp finely chopped fresh flat-leaf parsley
Sea or kosher salt and freshly ground black pepper to taste
Preparation
Generously season the steaks with salt and pepper, then thoroughly press into the meat and dab up any excess from the board.
Glisten the meat with canola oil, using the first steak to brush oil onto the others.
Direct Grilling Preheat the BBQ to medium-high. Put the meat on the well-oiled grill and cook until medium-rare (or cook to desired doneness).
Baste regularly with the Herb Brush, stacking and/or flipping the meat if the flames get out of control.
When the steaks are nicely caramelized and charred on both sides, approximately 15 to 25 minutes total, they are done. (You can check the temp with an instant-read thermometer if that is more comfortable; the steaks should register 125 degrees F.
Let the steaks rest for 2 minutes, then pour the board dressing onto a cutting board and slice the steaks, turning to coat the slices.
From BBQ25: The World's Most Flavorful Recipes—Now Made Foolproof by Adam Perry Lang (copyright 2010) with permission of William Morrow/An Imprint of HarperCollins Publishers
Adam Perry Lang is a best-selling author of the recently published cookbook BBQ 25: The World's Most Flavorful Recipes—Now Made Foolproof
(William Morrow, May 2010) and Serious Barbecue (Hyperion, 2009). He is also the Chef/Owner of Daisy May's BBQ in New York City, and Partner/Chef of Barbecoa in London, opening in October 2010.