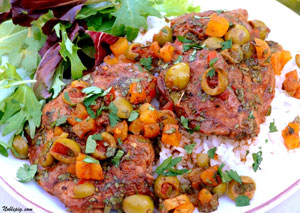 I'm going to have twist your arm and insist you make this...it's so unbelievably full of flavor, it left me speechless.  That's pretty hard to do.  This also does not have to be spicy.  For the record, mine was not.  I only used 1/4 teaspoon of red pepper flakes.  The suggested amount is one teaspoon for spicy, but I knew that would leave the kids out, so I went easy. 

The trick to this dish is a 24 hour marinade.  It infuses the chicken, making it unbelievably flavorful, tender and juicy.  It's nothing less than incredible.  Honestly, when I tasted it, I wanted to use it as salad dressing. 

This is a great weeknight dish but it is by far company worthy.  It's sweet and spicy (if you choose it to be) and looks so beautiful.  Makes sure to serve it over rice or couscous so you can drizzle the sauce from the pan and catch all the wonderful flavors.

Put this together while you are making dinner the night before and throw it in the fridge.  The next day all you have to do is bake it, it's so simple.
Spicy Chicken Thighs with Apricots and Olives
Adapted from FOODday

1/3 cup fresh lemon juice
1/3 cup honey
2 teaspoons ground cinnamon
Crushed red pepper flakes (determine your own amount of spice, 1/4 teaspoon for non-spicy or 1 teaspoon for spicy)
1-1/2 teaspoons kosher salt
1 teaspoon freshly ground black pepper
2 teaspoons ground cumin
1 teaspoon smoked Spanish paprika (do not substitute, it's available everywhere)
1/2 cup pimento-stuffed green olives, coarsely chopped
1/3 cup dried apricots, coarsely chopped
1/3 cup chopped fresh cilantro, plus extra for garnish
1-1/2 pounds skinless, boneless chicken thighs (4 large thighs)

In a small bowl whisk together the lemon juice, honey, cinnamon, pepper flakes, salt, pepper, cumin and smoked paprika.  Stir in the olives, apricots and cilantro.

Trim any excess fat from the chicken thighs and place in a large zip-top plastic bag.  Pour the marinade over and seal the bag.  Turn to coat all of the chicken and refrigerate for 24 hours (do not skip the 24 hour part), turning occasionally.

Preheat oven to 375 degrees.  Arrange the chicken thighs in a single layer in a shallow 2-quart (no larger) baking dish.  Pour the marinade with the olives and apricots over the chicken.  Bake for 45-50 minutes, or until the chicken registers 165 degrees on an instant read thermometer and juices run clear with a fork.  (I used my meat thermometer that I placed in the thickest part of one of the thighs towards the middle of the dish so I did not even use a timer.)

Garnish each portion with a little chopped cilantro.  Serve over rice or couscous.
Cathy is currently in the development stages of her vineyard and winery in the Willamette Valley of Oregon.  She is a food writer for Davis Life Magazine and blogs daily about wine, food and everyday living.  She lives with her husband and two sons.  You can visit her at noblepig.com.