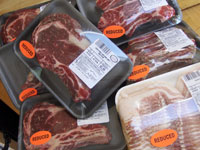 For me, shopping isn't fun if I don't get a bargain. My grandmother taught me well, "Never pay retail. If you want to be a good shopper, you have to pay less than other people and still get as good." In our neighborhood, Gelson's is the quality supermarket, carrying a full line of antibiotic-free, naturally raised meats. Which is great, except that they're pricey. The trick is to buy the meat when its been reduced, when a rib steak that was originally priced at $18.99/lb, is discounted to $7.99/lb. Any meat that's been reduced is still fresh, but it needs to be cooked that day or frozen.

Yesterday I stopped by and it was like my birthday. There must have been a dozen packages of prime cuts of meat, all reduced. I couldn't possibly eat all that meat in one day. But no way was I going to walk away from those bargains.

I bought half a dozen packages and prepped them for freezing. Years ago, after much experimentation, I learned a cool trick: if meat is marinated in olive oil seasoned with sea salt and freshly ground black pepper, wrapped in plastic wrap, and sealed in a Ziploc freezer bag, it will stay fresh for months without any loss of flavor. The olive oil appears to protect the meat from dehydration. The plastic wrap and Ziploc bag protects against freezer burn. Our older son, Frank, likes this system alot, since this way I can load up his freezer with plenty of steaks.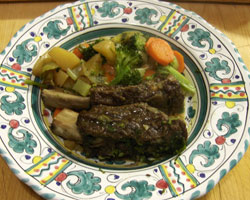 I wasn't going to freeze all the meat. I held back two packages of the beef rib bones. A simple braised dish, this is 1-pot cooking at its best. All you'll need is a covered Dutch oven or high-sided frying pan to make an entire meal, complete with meat and a variety of farm-fresh vegetables. The only special instruction is that it's a 2-day process. To get rid of the fat, the ribs have to be cooked one day and eaten on another day. By cooking the ribs ahead, this is a serve-anytime meal. Adding the vegetables at the very end, gives the dish a delicious, just-cooked presentation.
Braised Beef Ribs with Vegetables
4 lbs. beef rib bones or short ribs, washed
5 cloves garlic, peeled, roughly chopped
2 medium onions, peeled, roughly chopped
3 medium Yukon potatoes, peeled, roughly chopped
3 broccoli crowns, washed, the florets cut apart
3 large carrots, peeled, cut into thick rounds
10 Brussels sprouts, trimmed, quartered
1 cup Italian parsley, roughly chopped
2 celery stalks, cut into 1" lengths
6 brown mushrooms, washed, sliced
1 teaspoon fresh rosemary
4 cups water
3 tablespoons olive oil
1 tablespoon sweet butter
Sea salt
Freshly ground black pepper

In a Dutch oven or high-sided frying pan, heat 1 tablespoon of the olive oil and season with sea salt and freshly ground black pepper. Brown the ribs on all sides, then remove, and discard the fat. Put 1 tablespoon of olive oil in the pan and brown 1 onion and 2 garlic cloves. Deglaze the pan with the water, add back the ribs, cover, and put into a 400 degree oven for 1 hour. Remove the pan, turn over the ribs, and bake for another hour. Check the ribs. The meat should be tender and almost falling off the bone. If you're using short ribs, you may need to increase the cooking time another hour and you may have to add another cup of liquid.

Put the ribs into one container. Strain out the onions and garlic and discard. Put the braising liquid into a second container and refrigerate.

The next day, peel the thick layer of fat off the braising liquid and discard. In the same pan you used the day before, heat the olive oil and butter. Brown the potatoes, mushrooms, and onions, then add the ribs and the braising liquid. Cover and simmer for 15 minutes. Add the carrots, celery, broccoli, parsley, garlic, and Brussels sprouts. Cover and simmer another 15 minutes.

Serve the ribs in bowls with plenty of vegetables, the braising liquid, and a nice piece of baguette.
David Latt is an Emmy-award winning television producer who turns to cooking to alleviate stress. He shares his experiences with food and his favorite recipes on his blog Men Who Like To Cook.