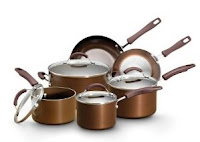 Non-stick pans, kitchen tools and storage containers. Your kitchen is filled with them, some good and some not so good. Sometimes your kitchen deserves an upgrade. Here are a few of my recent discoveries:
I've reviewed a lot of pots and pans over the years. I love the convenience for non-stick pans, but no matter what the brand or cost, eventually they flake. I like the ceramic non-stick, but they are a bit delicate and can chip if you're not careful, well, not the Earth Pan II
from Meyer corporation. The non-stick surface is made from sand, and has no PTFE or PFOA and it can be used with high heat! It's stovetop safe up to 600 degrees. I've been using a 12-inch pan for several weeks and it is easy to clean, and shows no signs that it will chip and there is no coating to flake off. Of course, the true test is how it performs in the long term, but so far so good.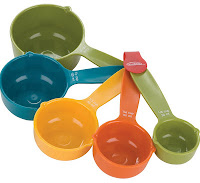 My old measuring cups were so ugly! They were stained and I hated looking at them, never mind using them. When someone from Trudeau offered to send me something of my choice from their line of kitchenware, I knew it would be their 5-piece measuring cup set
. Each piece is a different color and the shape is particularly easy to use. I also got their can opener since my old one had melted from being to close to the stove one day. If you don't have a can opener that lifts the top rather leaving sharp edges this is a great upgrade. I already have and love the Trudeau pot clip spoon rest
and one piece silicone spatula
(no wooden handle to burn or stain).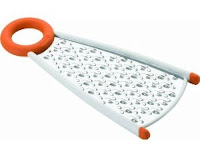 I just bought this Chef'n dual grater and I really like the design. It's coarse on one side, fine on the other, and it has little rubber feet so you can use it vertically or horizontally. It also takes up very little room when it's not in use. It's a really smart design and it was relatively inexpensive. I had another one from Microplane that I liked, but it broke. Eventually they also lose their edge and need replacing. The best Microplane product I have is the zester. If you don't have one, I highly recommend you get one.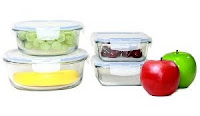 My last recommendation is to ditch your plastic storage containers. Oh you can use them for dry things like sugar and flour, but don't use them to store cooked food or to reheat. They stain and they get scratched and they might just be leaching chemicals into your food. A much better choice is glass. I've just purchased a set of Boroseal, Borosilicate glass stroage containers and while they aren't cheap, I expect them to last for a very, very long time. They have airtight plastic tops and can be used in the freezer, oven and microwave. Unlike plastic they will not stain or scratch or melt! Pyrex glass storage containers are less expensive and also get high ratings on Amazon, though I haven't personally used them.
Amy Sherman is a San Francisco–based writer, recipe developer, restaurant reviewer and all around culinary enthusiast. She blogs for Epicurious , Bay Area Bites and Cooking with Amy.