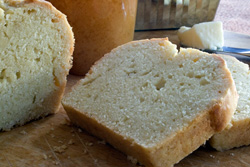 If you think dry and crumbly when you hear cornbread, you're not alone. That's exactly what I used to think. I remember the square cake pan of cornbread my mom used to make. It was so dry, I could hardly speak as I tried to swallow the sticky crumbs.
After much experimenting, I came up with a recipe that is moist with a much finer texture than most cornbread. The batter includes 1 cup of oil. Several years ago I used vegetable oil. As I became a bit more health conscious, I began using canola oil. Now I use walnut oil. Clearly one of the most healthful oils, it is a great source of antioxidants and omega-3 fatty acids. Its mild, neutral flavor makes it perfect for using as fat in baked goods. It's a bit more expensive than canola oil, but so worth it for the health benefits it delivers. It can sometimes be found near the the other cooking oils in the grocery store. I find it at my local natural food co-op and the natural food section of the local grocery stores.
Another way to kick-up the nutritional benefits of this bread is to use whole white wheat flour. This flour, which has all the nutrition and fiber of standard whole-wheat flour but with a lighter color and milder, sweet flavor, is milled from a hard white winter wheat berry, rather than the hard red spring wheat berry of traditional whole-wheat flours.
I've been using the flour from Dakota Family Mill. If you live in the Red River Valley region, you may find this flour in your grocery store. My local food co-op carries it. You can also order their Whole White Wheat Flour through their web site, where it is available in 5-pound bags.
My use of Bob's Red Mill stone-ground corn flour also contributes to the fine texture of the bread. It maintains all of the bran, the germ and the endosperm and is the key to producing cornbread that is not crumbly, yet still rich with flavor.
I bake the bread in a 12- x 4 3/4-inch loaf pan that used to belong to my great-aunt. The recipe will also make two traditional-sized loaves.
A thick slice of warm Sweet Cornbread slathered with butter and drizzled with honey is simply delicious. Try eating it with a bowl of hot, spicy chili -- wonderful. And it is a perfect accompaniment with the Red Beans and Rice that I write about in this week's food column.
Sweet Cornbread
2 eggs
1 cup walnut oil*
1 cup granulated sugar
1 cup milk
1 teaspoon pure vanilla extract
3 cups whole white wheat flour*
1/2 teaspoon salt
1 1/2 teaspoons baking powder
3/4 cup whole grain stone ground corn flour*
Preheat oven to 350 degrees. Grease two loaf pans (approximatley 9- x 5- x 3-inches). When I use my 12-inch-long loaf pan, I line it with parchment paper to make the removal of the loaf easier and less likely to break.
Beat eggs, oil and sugar in a mixing bowl. I like to use an 8-cup glass measure. Add milk and vanilla and blend well. Sift flour, salt, baking powder and corn flour together. Add to the ingredients in the mixing bowl, stirring until batter is quite smooth.
Spread the batter into the loaf pan(s). Bake two traditional loaves for about 35 minutes. One long loaf will take about 55 minutes. Allow to cool in pans for 10 minutes. Turn out onto cooling racks.
* You can use all-purpose flour rather than whole white wheat, canola oil rather than walnut oil and corn meal rather than corn flour. But, it just won't be the same.
Sue Doeden is a popular cooking instructor, food writer and integrative nutrition health coach. She is the host of Good Food, Good Life 365 on Lakeland Public Television. Her own hives full of hardworking bees and her love of honey led to the creation of her recently published cookbook, Homemade with Honey.