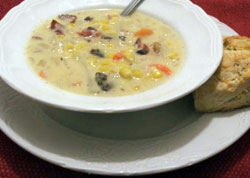 Where I live, it is very, very cold. There are icicles on the trees, cars must be started at least 10 minutes before one actually wishes to make the first foray of the day, and everyone has boots with tread, a shovel, and backup pair of gloves. This morning, sidewalks and streets were covered with a sheet of ice, and we semi-seriously contemplated getting to church by sliding down the hill from our house. (Not that my life is all that Norma Rockwell-ian, but we actually do live at the top of a hill, and our church is more or less at the foot of said hill).
On a Sunday night when it's been gray and cold forever, and the promise of the holidays is gone along with the first, unsullied snow, dinner needs to provide more than fuel. Demoralized persons (particularly those returning to school tomorrow after a blissful vacation) require something to lift the spirits in a way that cannot be accomplished with meatloaf or macaroni. Saving the demoralized requires something a little more interesting, a little more labor-intensive, and definitely farther outside the box.
Tonight, therefore, I used two of my Christmas gift cookbooks and made Corn Chowder and Buttermilk Cheddar Biscuits. The Corn Chowder recipe, quite different from my standard chowder-making routine, is from a strange and wonderful book called "Eat Me: The Food and Philosophy of Kenny Shopsin", about which more later. The Buttermilk Cheddar Biscuits are from Ina Garten's "Barefoot Contessa: Back to Basics."
Cook this stuff. I suppose that if you are languishing in tropical heat somewhere you may not want chowder and biscuits, but no matter where you find yourself physically, if it's wintery in your soul, this meal will make you strong enough to live another day and like it.
Corn Chowder
From Eat Me: The Food and Philosophy of Kenny Shopsin by Kenny Shopsin and Carolynn Carreno
6 slices bacon
1 baking potato, cut into 3/8 inch cubes
1/4 cup clarified butter, regular butter or ghee
2 cups frozen corn
1 big yellow Spanish onion, finely chopped
2 carrots, finely chopped
3 tablespoons cornmeal
A pinch of Pumpkin pie spice
3 cups any stock or broth
1/2 low-fat cup shredded cheese
3/4 cup heavy cream
2 tablespoons grated Parmesan cheese, or more to taste
salt and pepper
Cook the bacon until very crisp in a heavy saute pan over very high heat. Remove the bacon from the pan. Add the potato cubes to the rendered fat and cook, shaking the pan occasionally, until they are very crisp and brown on all sides.
Heat the butter in a large saucepan (I used my soup pot) over high heat. Add the corn, onion, carrots and (if you like) other vegetables like arugula, spinach or green beans. Cook on high heat for about 1 minute, but don't let anything burn. Add the cornmeal and pumpkin pie spice and stir. Add the stock, cheddar cheese and cream and bring the soup to a simmer. Reduce thge heat to low and simmer until the carrots are tender, about 5 minutes.
Just before serving, stir in the Parmesan, potato and bacon. Don't stir too much or wait too long to serve thge soup so that the bacon and potatoes will stay crisp. Season with salt and pepper, if desired.
Serves 4.
Buttermilk Cheddar Biscuits
Adapted from "Barefoot Contessa: Back to Basics" by Ina Garten
2 cups All-purpose flour
1 tablespoon baking powder
1½ teaspoons kosher salt
1½ sticks cold, unsalted butter, diced
1/2 cold buttermilk, shaken
1 cold extra-large egg
1 cup grated extra-sharp Cheddar
1 egg beaten with 1 tablespoon water or skim milk
Preheat oven to 425°F.
Place 2 cups flour, baking powder and salt in the bowl of an electric mixer fitted with the paddle attachment. With the mixer on low, add the butter and mix until the butter is the size of peas.
Combine the buttermilk and egg in a small glass measuring cup and beat lightly with a fork. With the mixer still on low, quickly add the buttermilk mixture to the flour mixture and mix only until moistened. in a small bowl, mix the Cheddar with a small handful of flour and, with the mixer still on low, add the cheese to the dough. Mix only until roughly combined.
Dump out onto a well-floured board and knead lightly, about 6 times. (It's normal that it will not stick together at first). Roll the dough out to a rectangle 5 x 10 inches. With a sharp, floured knife, cut the dough lengthwise in half, and across in quarters, making 8 rough rectangles. Transfer to a baking sheet lined with parchment paper (I just used my silicone pan liners). Brush the tops with the egg wash, sprinkle with sea salt, and bake for 20-25 minutes, until the tops are browned and the biscuits are cooked through. Serve hot or warm.
Serves 8 in theory, but 4 in reality.