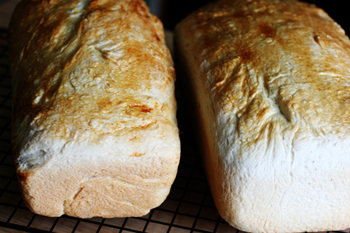 Although accustomed to a table full of eaters, eating alone at home is no problem for me. Cooking for one, however, is. My usual repertoire for solitary meals includes either heating up leftovers or making sunny-side up eggs and toast. The meals with leftovers vary, of course, but the eggs and toast is a bit of a never-boring treasure. Now there are people I know who cook fairly extensively for themselves, but I am not one of them.
My own mother was known to sit down to a fully set table and enjoy a first course of homemade soup followed by a meat, potato and vegetable main course, all topped off with a cup of brewed coffee and possibly a cookie or piece of cake, once again homemade. Not me. That much effort without the pleasure of watching someone else relish what I made, or at the least, having them eat it with no complaints is just not worth the trouble.
On one recent solo evening though, the meal I made both cracked me up and delighted me. On a lark, I spent a couple of hours baking Ina Garten's honey white bread. (Barefoot Contessa at Home by Ina Garten, Honey White Bread, p. 57). As the contessa claimed, it was an easy recipe to follow, and the bread was delicious.
So here I am with two freshly baked loaves of bread, and no one coming home for dinner, and I didn't want to cook anything, not even eggs. I sliced two hefty pieces of that fresh bread and popped them in the toaster. I smashed a half of a ripe avocado over each slice, added a little shake of salt, and ate my all-time best solo dinner. There is a bit of nonsense in having a no-cook dinner begin with homemade bread, but that's what it was.
Ina Garten's Honey White Bread
1/2 cup warm water (110°F)
2 packages dry yeast
1 teaspoon sugar
1½ cups warm whole milk (110°F)
6 tablespoons (3/4 stick) unsalted butter, melted and cooled
1½ tablespoons honey
2 extra-large egg yolks
5 to 6 cups all-purpose flour
1 tablespoon kosher salt
1 egg white, lightly beaten
Place the water in the bowl of an electric mixer fitted with a dough hook attachment. If the bowl is cold, be sure the water temperature doesn't drop below 110°. Add the yeast and sugar; stir and allow them to dissolve for 5 minutes.
Add the milk, butter, and honey. Mix on medium speed until blended. Add the egg yolks, 3 cups of the flour, and the salt. Mix on low-speed for about 5 minutes. With the mixer still on low-speed, add 2 more cups of flour. Raise the speed to medium and slowly add just enough of the remaining flour so the dough doesn't stick to the bowl. Add the flour slowly; you can always add more but you can't take it out. Knead on medium speed for about 8 minutes, adding flour as necessary.
Dump the dough out onto a floured surface and knead by hand for a minute, until the dough is smooth and elastic. Grease a bowl with butter, put the dough in the bowl, then turn it over so the top is lightly buttered. Cover the bowl with a damp towel and allow it to rise for 1 hour, until doubled in volume.
Grease two 9 x 5-inch loaf pans with butter. Divide the dough in half, roll each half into a loaf shape and place each in a prepared pan. Cover again with the damp towel, and allow to rise again for an hour, until doubled in volume.
Meanwhile, preheat the oven to 350°F. When the dough is ready, brush the tops with the egg white and bake the breads for 40 to 45 minutes, until they sound hollow when tapped. Turn them out of the pans and cool completely on a wire rack before slicing.
Rachel Parker is a middle school teacher and home cook.