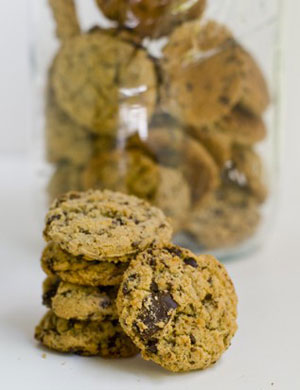 Adapted from Desserts by the Yard
Yield: 40 cookies
Ingredients:
1 1/2 cups all-purpose flour
1/2 teaspoon baking soda
4 oz. (1 stick) unsalted butter, room temperature
1/2 cup sugar
1/2 cup light brown sugar
1/4 teaspoon salt
1 large organic egg
1 teaspoon vanilla extract
12 oz good bittersweet chocolate, chopped into pieces
Instructions:
Sift flour and baking soda together and set aside.
In the bowl of a standing mixer, cream teh butter until creamy. Add the sugars and the salt and blend well. Scrape down the side of the bowl. Add the egg and the vanilla extract.
Add the flour mixture on low speed and mix well. Add the chocolate and mix thoroughly.
Using a 1 tablespoon scooper, make balls using all the dough. Cover with plastic wrap. Let rest in the fridge over night.
Preheat oven to 350°. Line two baking sheets with parchment. Place cookies on sheet, 2 inches apart. Bake, rotating sheets back to front, top to bottom, 12-15 minutes. Let cool on wire racks. Enjoy!
- Recipe courtesy of Susan Salzman