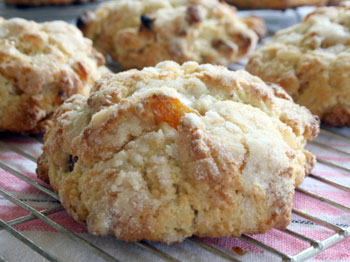 2¾ cups all-purpose flour
1½ cups sugar
1/2 cup (1 stick) chilled unsalted butter, cut into pieces
2½ teaspoons baking powder
1 teaspoon salt
1 teaspoon ground ginger
1 (3.5 ounce) bar white chocolate, coarsely chopped
1 cup whole raw almonds, toasted, coarsely chopped
3/4 cup raw pistachio nuts, toasted, chopped
2 large eggs
1/4 cup plus 1 tablespoon apricot-flavored brandy, cognac or brandy
2 teaspoons almond extract
1 (6-ounce) package dried apricots, chopped
Line a large baking sheet with parchment paper or foil. If using foil, butter and flour it. Combine first six ingredients in food processor. Process until fine meal forms. Or place ingredients in large bowl and use pastry blender or two knives to cut mixture until consistency of fine meal. Beat eggs, brandy and almond extract to blend in large bowl. Add flour mixture chopped nuts, white chocolate chunks and apricots and stir until moist dough forms, using clean hands if necessary, to gather all of the ingredients together in one mass.
Divide dough into three equal pieces. Form each piece of dough into 12-inch-long strip on prepared cookie sheet, spacing evenly. Moisten fingertips and shape each dough strip into 2-inch-wide log. Refrigerate until dough is firm, about 30 minutes.
Position rack in center of oven and preheat to 350 degrees. Bake until logs are golden, about 30 minutes. Transfer sheet to rack and cool completely.
Reduce heat to 300 degrees. Cut logs from sides of pan if necessary. Transfer to work surface. Using heavy sharp knife, cut each log crosswise into ¾-inch-wide slices. Arrange half of cookies cut side down on cookie sheet. Bake 10 minutes. Gently turn cookies over and bake 10 minutes longer. Transfer cookies to racks. Repeat baking with remaining cookies. Cool cookies completely. Makes about 40.
Tips from the cook
Give your knife a light coating of nonstick cooking spray before chopping apricots. No more dried fruit stuck to the blade.
Nonstick qualities of parchment paper will allow you to safely lift the whole baked biscotti loaves from the baking sheet to a cutting surface without breaking them
Using a serrated blade will produce a clean slice through the apricots and nuts.
-Recipe courtesy of Sue Doeden