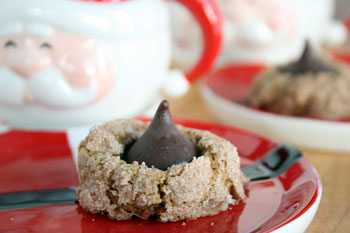 2 cups all-purpose flour
1/2 teaspoon salt
1/4 teaspoon baking soda
1/4 teaspoon baking powder
2 tablespoons instant coffee granules or espresso powder
1/3 cup shortening
1/2 cup packed brown sugar
1/2 cup plus 3 tablespoons granulated sugar
1 egg
1½ teaspoons pure vanilla extract
1 tablespoon milk
1 tablespoon hot water
1/2 teaspoon ground cinnamon
1 egg white mixed with a couple of teaspoons of water and whipped with a whisk
48 Hershey's milk chocolate kisses, wrappers removed
Preheat oven to 400°F. Line baking sheets with parchment paper and set aside.
Sift flour, salt, baking soda, baking powder and instant coffee granules or espresso powder into a bowl and set aside.
In a large mixing bowl, cream shortening, brown sugar and 1/2 cup granulated sugar, egg, vanilla and milk until fluffy. Add sifted dry ingredients and blend. Add hot water and mix. Shape dough into 1-inch balls. (I used a #100 portion scooper).
Mix remaining 3 tablespoons granulated sugar with cinnamon in a bowl. Quickly dip each ball of dough into a bowl of egg white and water mixture. With a fork, transfer ball to sugar mixture and roll to coat. Place sugar-coated ball of dough onto prepared baking sheet. Bake in preheated 400-degree oven for 8 to 10 minutes, or until lightly browned.
Remove from oven and immediately push a milk chocolate kiss into the middle of each cookie. Allow cookies to cool on baking sheet. Use a metal spatula to transfer cookies to wire rack to cool completely. Makes 3 1/2 to 4 dozen cookies.
- Recipe courtesy of Sue Doeden