Mocha Kissy Cookies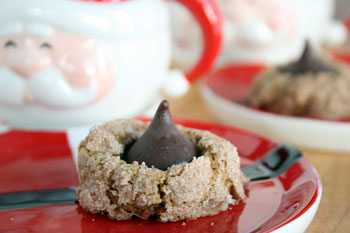 2 cups all-purpose flour
1/2 teaspoon salt
1/4 teaspoon baking soda
1/4 teaspoon baking powder
2 tablespoons instant coffee granules or espresso powder
1/3 cup shortening
1/2 cup packed brown sugar
1/2 cup plus 3 tablespoons granulated sugar
1 egg
1½ teaspoons pure vanilla extract
1 tablespoon milk
1 tablespoon hot water
1/2 teaspoon ground cinnamon
1 egg white mixed with a couple of teaspoons of water and whipped with a whisk
48 Hershey's milk chocolate kisses, wrappers removed
Preheat oven to 400°F. Line baking sheets with parchment paper and set aside.
Sift flour, salt, baking soda, baking powder and instant coffee granules or espresso powder into a bowl and set aside.
In a large mixing bowl, cream shortening, brown sugar and 1/2 cup granulated sugar, egg, vanilla and milk until fluffy. Add sifted dry ingredients and blend. Add hot water and mix. Shape dough into 1-inch balls. (I used a #100 portion scooper).
Mix remaining 3 tablespoons granulated sugar with cinnamon in a bowl. Quickly dip each ball of dough into a bowl of egg white and water mixture. With a fork, transfer ball to sugar mixture and roll to coat. Place sugar-coated ball of dough onto prepared baking sheet. Bake in preheated 400-degree oven for 8 to 10 minutes, or until lightly browned.
Remove from oven and immediately push a milk chocolate kiss into the middle of each cookie. Allow cookies to cool on baking sheet. Use a metal spatula to transfer cookies to wire rack to cool completely. Makes 3 1/2 to 4 dozen cookies.
- Recipe courtesy of Sue Doeden
Paris


by

Brenda Athanus





Our excitement builds as our tiny Peugeot navigates the streets of Paris heading for rue du Cherche-Midi and my mecca, Poilane. Poilane is an extrordinary bakery that I had been reading about and...

Read more...

Texas


by

David Latt





If you're in Texas, you'll be tossing your fears about high cholesterol levels out the car window. This is cattle country, after all, and nothing is as good as a steak cooked on a hot-as-hell...

Read more...

Los Angeles


by

Maia Harari and Anna Harari





It's sort of hidden. You can't see it from the street and it's beneath a hotel that doesn't seem nearly as nice, the Hotel Carmel, that is. It's called Chloe, the Westside complement to Laurie...

Read more...

Southern States


by

David Latt





Mention New Orleans and anyone who's been says, "The food's so great. And the music. If you go, you'll love it."

With so few days in town, I asked for suggestions on Facebook and Twitter, read...

Read more...