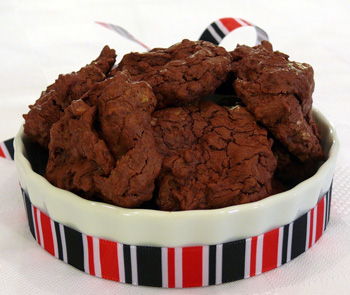 Adapted from Fine Cooking

6 ounces good quality, bittersweet chocolate, chopped
2 large egg whites, at room temperature
1/8 teaspoon cream of tartar
1/2 teaspoon pure vanilla extract
1/4 cup granulated sugar
3/4 cup finely chopped walnuts
Melt chocolate. I melted mine in a stainless steel bowl over boiling water. Easy and fast. Set aside.
With a stand or hand mixer using the whisk attachment, beat egg whites with cream of tartar until soft peaks form. With the beaters running, gradually add vanilla extract and granulated sugar until the egg whites hold stiff peaks but aren't dry.
Pour walnuts and melted chocolate over the whipped whites, gently folding them into the mixture with a rubber spatula. Try not to deflate the whites and mix until the color is just uniform.
Immediately drop teaspoons of the batter onto two baking sheets covered in parchment paper. Space the drops 1-inch apart. Position oven racks in the upper and lower thirds of the oven and bake cookies at 350 degrees for 10-12 minutes.
Bake until the cookies are shiny and cracked. They will be firm on the outside but gooey on the inside when pressed. Transfer to racks to cool completely.
- Recipe courtesy of Cathy Pollak