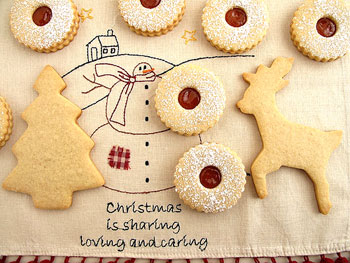 Note: Cashew flour can be found in specialty health food markets or online. Almond flour can also be substituted.

3/4 cup finely ground cashews or cashew flour
2-1/2 cups all-purpose flour
1/2 teaspoon baking powder
1/2 teaspoon salt
1/4 teaspoon ground nutmeg
1 cup (2 sticks) unsalted butter, room temperature
1/2 cup light-brown sugar
1 large egg
1 teaspoon pure vanilla extract
apricot jam

In a medium bowl, whisk together dry ingredients: ground cashews, flour, baking powder, salt, and nutmeg.

In a stand mixer fitted with the paddle attachment, beat the butter and sugar on medium speed until light and fluffy. Add egg and vanilla extract; mix until combined. Add the dry ingredients a little at a time on low speed, scraping down the sides of the bowl. Mix until combined. Form dough into two disks and wrap in plastic. Chill for 30 minutes to 1 hour.

Preheat oven to 350 degrees F. Line baking sheets with oven-safe parchment paper or Silpats.

Roll out one disk of dough between two pieces of plastic wrap to 1/4 inch thick. Keep second disk in refrigerator until ready to roll. Chill rolled dough for 20 minutes. Cut out cookies using a 1-1/4-inch fluted round cookie cutter and transfer to lined baking sheet, arranging no more than 1 inch apart. Cut out centers of half the cookies using a 3/4-inch round cookie cutter. Reshape scraps of dough into a disk, wrap in plastic, and keep in refrigerator until ready to roll again.

Bake cookies until golden, about 10 to 15 minutes. Let cool completely. Spread cookie bottoms with about 1 teaspoon of jam and cover with top, squeezing together and removing any excess that comes out.
Yield: 24 sandwiched cookies.
- Recipe courtesy of Joseph Erdos