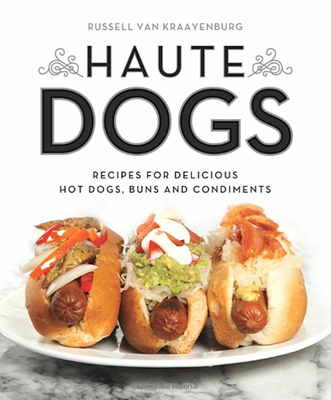 As I was reading the introduction to Russell Van Kraayenburg's cookbook, Haute Dogs: Recipes for Delicious Hot Dogs, Buns, and Condiments
, I found myself questioning his ardor for the humble encased meat. I mean, really, who could say, without his tongue inserted into his cheek, that he found hotdogs "alive with possibilities"?
I kept reading and quickly surmised that Kraayenburg is the real deal: He is an honest-to-goodness hot dog evangelist.
Having "explored the vast, varied world of weinerdom," Kraayenburg has compiled over 100 recipes for homemade hot dogs, buns, and condiments. You'll learn how to make from scratch dogs and sausages including bratwurst and kielbasa. You'll also discover how to make your very own classic hot dog buns, plus a few other glutenous vessels such as flat bread and corn dog batter. As for sauces and condiments, you'll find a hearty variety of BBQ sauces, mustards, ketchups, relishes, salsas, slaws, and more.
The recipes include all-American classics such as the Chicago Dog, an all-beef weiner overwhelmed with neon-green relish, tomato wedges, sport peppers, a dill pickle spear, and celery salt served on a poppy seed bun and the Coney Island dog, an all-beef weiner smothered with Coney Island sauce (recipe included!), yellow mustard, and diced white onions. Of course, the quintessential summertime favorite, the corn dog, is included, as is its rival the waffle dog.
Modern American dog recipes include such winners as the Texas BBQ Dog, a beef weiner weighed down by copious amounts of pulled pork and baked beans and the Maxwell Street Polish, a Polish sausage tucked inside of a classic bun and topped with chopped white onions, yellow mustard, and sport peppers.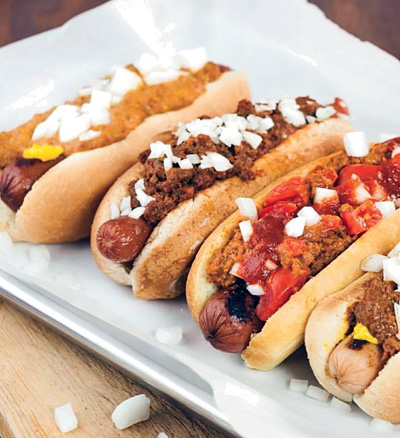 Since hot dogs, and variations thereof, are eaten in numerous cultures, Kraayenburg includes globally-inspired recipes such as the Spicy Thai Dog, a beef or pork weiner topped with spicy, sweet chili nam chim (dipping sauce) and the Norwegian, a foot-long red pork hot dog garnished with yellow mustard and ketchup and wrapped in flat bread.
A quirky book about hot dogs wouldn't be complete without a few quirky dogs like the French Fry Dog from Thailand. A beef or pork weiner is skewered and dipped in corn dog batter and then rolled in French fries and deep-fried. Not kooky enough for ya? Then consider the Colombian Pineapple Dog — a beef or pork weiner topped with pineapple relish, ketchup, mustard, grated Cheddar cheese, and crumbled potato chips.
As for gut-busters, the undisputed champion is the Loaded Guatemalan Meat Dog, a mammoth concoction of an all-beef hot dog on an extra-long bun, topped with guacamole, mayonnaise, tomato sauce, yellow mustard, hot sauce, boiled cabbage, sliced ham, bacon strips, pepperoni, chorizo, and longaniza (a chorizo-like sausage). I feel full just from typing that sentence.
The book is about more than just good recipes. It's also a walk down hot dog's memory lane. You'll discover fun and fascinating trivia about encased meats good enough to pass on to friends at your next get-together. Like the time in 1939 when President Franklin D. Roosevelt hosted a party for the king and queen of England where they served hot dogs. Legend has it that Roosevelt told the queen, who was confused about how to consume the encased meat, to "push it into your mouth and keep pushing until it is all gone." She opted for a fork and knife.
Whether you too use a fork and knife or like your dog nestled in a bun, Haute Dogs has something to satisfy everyone.
Texas BBQ Dog
Place of Origin: Southern United States
Other Names: BBQ Dog, Loaded Dog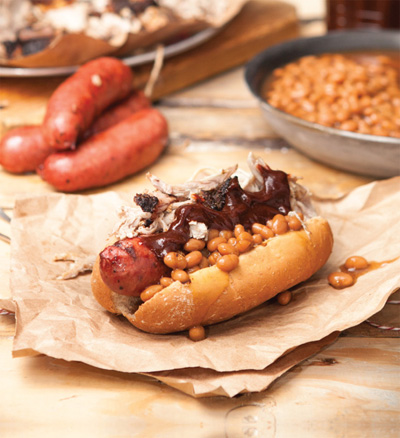 Consider yourself warned: this hot dog takes all day to make (though technically it is not the dog but the pulled pork topping that is so time consuming). But since you can make it all on the grill, this recipe is the perfect excuse to spend a long summer day outside. As for the precise pedigree of this loaded BBQ dog—who knows? But find me a hole-in-the-wall BBQ joint in the South that doesn't serve something like this and I'd be surprised. For the style of barbecue, I took a cue from my home state, where the focus is always on the meat and never on the sauce or sides.
Pulled Pork
Texas BBQ Sauce
Baked beans
Classic bun
American beef sausage
Prep: Make pulled pork and Texas barbecue sauce, if using homemade. Make baked beans according to the package instructions and keep warm.
Assembly: Get out a classic bun. Grill an American beef sausage and toast the bun on the grill. Place the sausage in the bun and top with a heaping pile of pulled pork and a pile of baked beans. Serve with barbecue sauce.
Kitchen Notes: Pulled pork takes the better part of a day to cook, so plan ahead. Texas-style barbecue sauce is available at most grocery stores. American beef sausage, sometimes called farmer's beef sausage, is heavily seasoned and often has a pungent garlic flavor that pairs well with pulled pork and barbecue sauce.
Mind Your Bs and Qs
Texas barbecue is all about the meat. Though Texans love beef, we're not opposed to throwing in some pork, lamb, and chicken. Unless you're serving up hot dogs, the sauce is always served on the side, not on the meat.
- Recipe and photos courtesy of Haute Dogs by Russell van Kraayenburg. Published by Quirk Books.
Susan Russo is a free lance food writer in San Diego, California. She publishes stories, recipes, and photos on her cooking blog, <Food Blogga and is a regular contributor to NPR's <Kitchen Window. She is also the author of Recipes Every Man Should Know
and The Encyclopedia of Sandwiches
.