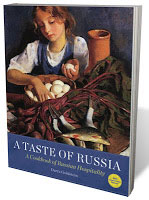 I love exploring the Russian grocery stores out on Geary Street in San Francisco and often purchase luscious sour cream, delicate blini and caviar, sweet cheese pancakes, frozen pelmeni and vareniki dumplings and different varieties of smoked fish. So I was very excited to see that A Taste of Russia
by Darra Goldstein was being reprinted on the occasion of it's 30th anniversary.
It's filled with all kinds of dishes I want to make such as Piroskhi, Cabbage with Noodles and Poppy Seeds, Radishes in Sour Cream, Cranberry Kvass and Circassian chicken. It's my first Russian cookbook and while lacking photos, it does cover all the basics with recipes that are easy to follow and helpful and enlightening notes from the author who spent time living in the former Soviet Union.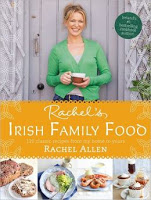 Maybe it's just my love for potatoes, but another cuisine I associate with comfort is Irish food. Cooking teacher Rachel Allen's latest book is Rachel's Irish Family Food
and it has loads of dishes that while nothing fancy are particularly appealing this time of year. I've bookmarked Ham and Egg Pie, Oatcakes, Beef and Red Wine Pot Pie and Whole Grain Shortbread.
Many of the recipes are very simple and for things I'm not sure I really need a recipe for like Salmon with Capers and Dill, Slow Roasted Shoulder of Pork and Creamy Mashed Potatoes, but if you are just starting out cooking, are firmly in the meat and potatoes camp or are just looking for more options on St Patrick's day, this book is a good pick.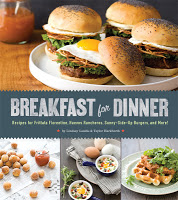 Another book that recently caught my eye is Breakfast for Dinner
. Clearly I'm not the only one to resort to breakfast for dinner on tough days. I love the quote in the beginning of the book that says "…eating breakfast, even if it's at 5 o'clock in the afternoon, is a sign that the day just begun and good things can still happen." The cookbook is divided into sections--main dishes, sides & starters, drinks & desserts.
The egg, biscuit, waffle and pancake variations make perfect sense to me, though I think recipes like Cornflake Crusted Chicken Tenders and Grapefruit Risotto with Seared Scallops are a bit of a stretch. Just using cornflakes or grapefruit doesn't really make it breakfast. But whether you are looking for new ideas for breakfast or for dinner, there are lots of brilliant recipes like Habanero-Cheddar Bread Pudding, Scrambled Egg & Salmon Quesadillas and Bananas Foster Crepe Cake.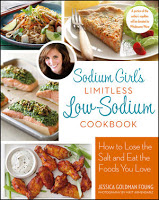 Salty foods make me happy but imagine for a minute if you had to give up salt. How would you make food taste good? Sodium Girl blogger Jessica Goldman Foung has painstakingly experimented to figure out how to make some of her favorite foods without adding salt or even using salty ingredients. While I'm not giving up olives or blue cheese anytime soon, I learned a lot from reading her book, Sodium Girl's Limitless Low-Sodium Cookbook
(with fab photos from fellow blogger/photographer Matt Armendariz).
There are nifty substitutions plus tips and techniques for getting the most flavor out of food without salt using spices and garlic or garlic powder, umami broth and sometimes emphasizing the natural sweetness in foods. She even has cheese free versions of macaroni and cheese and quiche that sound and look very comforting. While this book is primarily for those who need to give up salt, there's a lot in it we can all learn.
Amy Sherman is a San Francisco–based writer, recipe developer, restaurant reviewer and all around culinary enthusiast. She blogs for Epicurious , Bay Area Bites and Cooking with Amy .