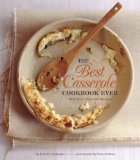 I taught myself to cook over 7 years ago and I imagined over those first culinary delights that I'd eventually become better at the art. Alas, it seems my initial joy at creating lovely meals for my man has never really progressed past the basics of following a recipe and, over the last year, become something of a drag. For those of you whose job it is to get dinner on the table every night, I'm sure you share my pain in coming up with new and tasty ways to cook the same old ingredients. (Working at a food zine has only contributed to my malaise.) I used to enjoy the process of preparing a new dish, but now I find myself more and more disappointed with the results. Mostly because the ½ hour of eating rarely justifies the hours of cooking. Not that my food comes out bad, it just isn't as extraordinary as I continually hope it will be.
My inherent laziness and current lack of enthusiasm compelled me to purchase The Best Casserole Cookbook Ever
, a fairly large tome of over 500 recipes that require very little effort to convert everyday items into comfort food. My husband, who rarely comments on my cooking, has been loving dinner lately. Partly because the meals are simple and hearty (he's from the Mid-West, nuff said) and partly because the mess left behind – I cook, he cleans – has been quite minimal. A win-win situation for him. There's just something about throwing a bunch of ingredients in a pot, walking away and returning a few hours later to a scrumptious, yummy meal that's really working for me right now. Plus, it makes the house smell wonderful for hours.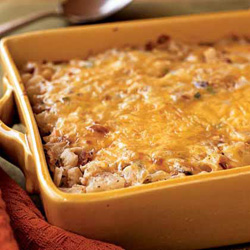 The book covers all the classics – covering recipes for Beef, Chicken, Lamb and Fish, as well as a plethora of Sides, Kid-Friendly Choices, Pastas and even a fairly extensive selection of Desserts. Most of the recipes are made to serve a family, so we have a lot of leftovers, but so far neither of us has minded. They even have a section of Casseroles for Two, which is nice when you don't want to spend the money to feed an army or eat the same meal for a week. Most of the recipes use some form of protein combined with items you'll find in your pantry, with olives and sun-dried tomatoes being the most "exotic" ingredients I've encountered so far.
Being a book devoted to casseroles, many of the recipes are not exactly low in fat or calories, using butter and cream to achieve their goodness. All I can say is "wow" what a difference the real stuff makes. Mostly, the only changes I've made to the recipes have been to add some additional herbs and spices and substituting low-fat dairy choices when it won't hurt the overall flavor. Clearly written with families, i.e. children, in mind, the end results would be a bit bland otherwise. Suffice it to say, you won't be winning any culinary awards by using this cookbook, but you will be full and comforted without much effort, which is just fine by me. To get you started, I've included our favorite recipe so far.
ORZO CHICKEN
2 boneless skinless chicken breasts
¾ cup orzo pasta
1 cup chicken broth, heated
½ finely chopped cippolini onion
1 medium tomato, diced
1/3 cup heavy cream
1/3 cup low-fat sour cream
¼ grated Parmesan cheese
½ cup shredded low-fat mozzarella cheese
2 teaspoons dried basil
Salt and Pepper
1 tablespoon flour

Preheat the oven to 400°F.

Coat a shallow 1 ½ quart casserole dish with cooking spray. Combine the flour and 1 teaspoon of the basil in a shallow dish. Season the chicken with salt and pepper, then coat with the flour mixture. Shake off excess.

Spread out the orzo in the bottom of the casserole dish, then spread the parmesan on top. Pour the hot chicken broth evenly over the pasta. Spread the remaining basil, onion and tomato over the orzo. Lay the seasoned breasts on top of everything.

Mix the heavy cream and sour cream together and then spoon over the chicken. (It's OK if it runs off the sides into the orzo mixture. It will only make the orzo taste better. Believe me.) Bake uncovered for 30 minutes, or until the chicken is cooked through. Sprinkle with the mozzarella cheese and bake until melted, about 5 minutes.

Serve each breast with half of the orzo.

--Adapted from The Best Casserole Cookbook Ever
Lisa Dinsmore is a writer, web programmer, movie and wine lover who lives in Los Angeles with her husband. She currently runs two review websites to share her passions: www.crazy4cinema.com and www.dailywinedispatch.com.