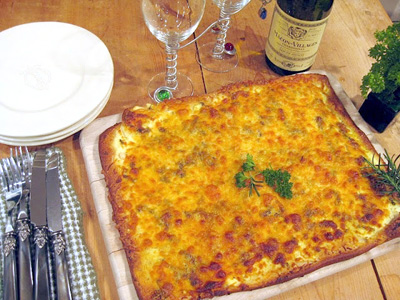 True confession…I'm not a huge red sauce fan, but I do love pizza, spaghetti, lasagna, etc…just with downplayed marinara and jazzed up cream sauce or cheese. A quick meal for two, this pizza can be doubled for a group or shared easily betwixt a couple folks. Paired with a good wine, this made a fine little supper. With a white pizza, I chose a white wine, Macon-Villages Chardonnay, which paired wonderfully with the pizza (said wine has been reviewed well with cheeses and cream dishes…this pizza vouched for that!).
Simple yet rustically elegant, this little meal came together in a flash. Good ingredients, fresh herbs, and an infused olive layered upon a crispy crust hit the spot. Since I always have rosemary and parsley on hand, they were the top candidates for this pizza. The latter herb is highly underrated – parsley has a wonderfully unsullied flavor and tastes somewhat like it looks… green, crisp, and fresh.
The bakery section of my grocery store has pizza dough for sale and it's delicious. This dough is one I say to cheat with, since they've already made it and it's just waiting for you to bake it. The canned versions aren't bad either.
For my olive oil, I used infused oil that has a mix of garlic, salt, white and red pepper, thyme, bay leaves, some coriander, and fennel. Making your own infused oil is easy…just mix up a grouping of your favorite herbs and spices, about a teaspoon of each, and let the mix "steep" in some olive oil for a bit…the longer this assembly melds together, the better it gets! Specialty food stores also carry great selections of infused oils.
Cheese, please…ricotta for the base (then the oil splashed on top), shredded mozzarella, romano, provolone, and fontina make up the lactose body of this pizza with a sprinkling of parmesan for good measure. If buying a gaggle of cheeses isn't your cup of tea, use a blend from the grocery.
I baked it until I thought it looked done and the cheese was toasted and completely melted. As soon as I took the pizza from the oven, I sprinkled the fresh herbs on top and let the heat wilt them perfectly, adding that fresh layer only herbs can add. My rustic cutting board provided the perfect spot to serve the pizza from, and my simple little meal was served. A fine little meal I might say, and from my little pizzeria to yours, Buon appetito!
The Farmer's White Pizza
1 Grocer's bakery pizza dough…thin crust preferably.
About 4 tablespoons of infused olive oil
3/4 cup of ricotta cheese
2 cups of mixed cheeses (mozzarella, provolone, fontina and romano
3/4 cup of shredded or grated parmesan
Handful of curly leaf parsley and rosemary leaves…basil or thyme would be great in the Summertime!
Preheat the oven to 400 degrees Fahrenheit.
Layout the dough on a greased baking sheet and Spread the ricotta across the dough and then drizzle with the oil.
Sprinkle the mixed cheeses evenly across and bake for about 12-15 minutes…remove from oven when the dough is crispy and the cheese is toasted.
Toss on some fresh herbs and served hot with a good cold white wine…maybe even a nice little salad, too!
James T. Farmer III was born and raised in Georgia, where he continues to live and work as a landscape designer. He shares his love of food, flowers and photography on his blog All Things Farmer.