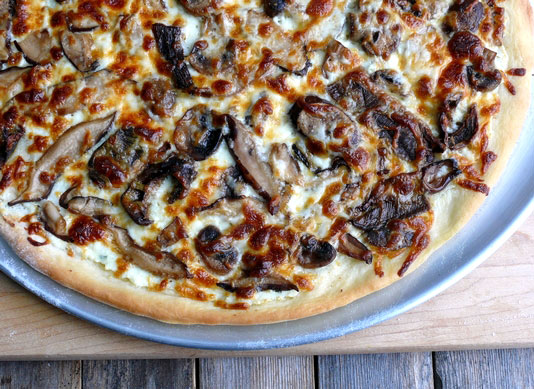 We definitely have some mushroom lovers in our household, and any chance we get to enjoy them, we go for it. White pizza had also been on my mind lately, it's a nice change from the regular red sauce varietyI tend to make.

If I had to pick a favorite pizza recipe, Hawaiian, with lots of pineapple would win hands down. However, no one in my family really likes it (not sure what that's about). It's rare I get to enjoy it so I am always coming up with other pizza concoctions I know I will love. This one is no exception.
I used four types of mushrooms for this recipe. All have different textures and flavors, which gives this pizza a nice complexity and meatiness. My oldest son loves mushrooms and he went crazy for this version. He asked for it two days in a row...imagine that.
Mushrooms are also a great source of Vitamin D, something we really need to be mindful of here in the Pacific Northwest. And nothing pairs better with mushrooms than our Pinot Noir...yum.
I used two types of fresh mushrooms, button and baby bellas and two types of dried mushrooms, porcini and shitake. I rehydrated the dried mushrooms in boiling water. First I sauteed the fresh mushrooms in butter, adding the rehydrated mushrooms to the pan a little later. Pre-cooking the mushrooms removes lots of their water content so your pizza crust doesn't get soggy.
To the pizza crust I added a layer of rosemary infused ricotta cheese, then mozzarella, then the mushrooms with more mozzarella cheese on top. I also drizzled the pizza with olive oil before placing it in the oven.
White Four-Mushroom Pizza
Recipe Created by Cathy Pollak for NoblePig.com | Serves: One pizza, 8 slices
Ingredients:
12 oz pizza dough, homemade or store-bought
1-1/4 cups part-skim ricotta cheese
1 Tablespoon chopped rosemary, fresh
1 teaspoon roasted garlic salt (such as Lawry's)
1/4 cup butter
2 cups sauteed, sliced assorted mushrooms (such as button, baby bellas, porcini and shitake
2-1/2 cups shredded mozzarella cheese
1-2 Tablespoons extra-virgin olive oil
red pepper flakes, optional
freshly ground black pepper, optional
Directions:
Preheat oven to 450 degrees F.
In small bowl, combine ricotta cheese, rosemary and garlic salt. Set aside.
Add butter to a nonstick saute pan over medium heat. Add mushrooms and saute until cooked through. If you are using any dried mushrooms, first cook any fresh mushrooms, adding the dried (rehydrated) ones at the end. This helps remove any excess water. Salt mushrooms to taste.
Spread ricotta cheese mixture evenly over pizza dough. Sprinkle on half of the mozzarella cheese. Add mushrooms in a single layer and follow with remaining mozzarella cheese. Drizzle with olive oil.
Bake for 14-16 minutes or until done. Let sit for 2 minutes before slicing. Sprinkle with red pepper flakes and freshly ground pepper.
Cathy owns a vineyard and winery in the Willamette Valley of Oregon. She is a food writer for Davis Life Magazine and blogs daily about wine, food and everyday living. She lives with her husband and two sons. You can visit her at noblepig.com.