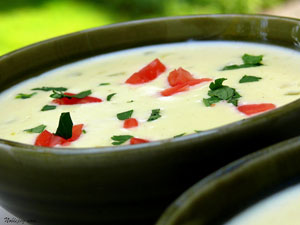 So simple looking yet packed with an unreal amount of flavor, not to mention its perfectly thick consistency.  It's just the way I like my soup, creamy, cheesy and yummy.

Cheddar cheese soup has always been a favorite of mine but when made at home it can often turn out lumpy.  Cheddar has a tendency to clump together or get grainy when added to a hot liquid.

One way to solve the clumping issue is to grate the Cheddar finely and add it to the soup once it's removed from the heat; do not boil the soup once the Cheddar has been added   The cheese will melt easily and you will end up with an amazing meal. 

Using a good quality sharp, white Cheddar will yield the most flavor and you won't believe what an incredible taste this soup has, it's definitely company worthy.  Serve some fresh baked bread on the side and you have the perfect meal.

Try it, I promise you will love it.
White Cheddar Cheese Soup
Adapted from Cuisine at Home

1/4 cup unsalted butter
1 cup yellow onion, diced small
1/2 cup celery, diced small
1 teaspoon garlic, minced
1/4 cup all-purpose flour
2 teaspoons dry mustard
1 teaspoon kosher salt
1 teaspoon ground white pepper
1/2 cup dry white wine (I used Chardonnay)
1-1/2 cups chicken broth
1-1/2 cups whole milk
1-1/2 cups heavy cream
4 cups good quality sharp, white Cheddar cheese, grated (12 oz.)
Tomatoes and parsley for garnish

Sauté onion and celery in butter in a large pot over medium-low heat.  Cook for 10 minutes; add garlic and sauté 1 minute more.  Stir in flour to coat the vegetables.  Add dry mustard, salt and white pepper.  Stir constantly for 2 minutes to prevent scorching. 

Whisk in wine, the mixture will be clumpy, that's okay.  Then whisk in broth, milk and cream, scraping the bottom of the pot.  Bring soup to a boil, reduce heat and simmer 15 minutes.

Remove from heat and stir in cheese.  Continue stirring until cheese is completely melted.

Transfer to individual serving bowls and garnish with tomatoes and parsley.  Serve immediately.
Cathy is currently in the development stages of her vineyard and winery in the Willamette Valley of Oregon.  She is a food writer for Davis Life Magazine and blogs daily about wine, food and everyday living.  She lives with her husband and two sons.  You can visit her at noblepig.com.