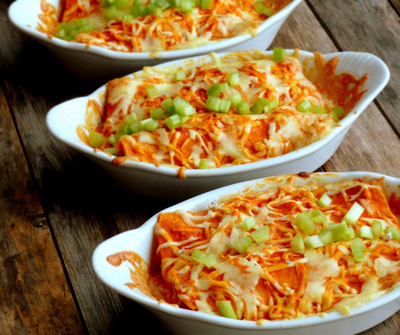 I've had these on my mind for a while now. I'm not the biggest fan of traditional enchilada sauce but I will take buffalo sauce in an enchilada anytime! I stuffed these with ricotta cheese, Monterey Jack and of course blue cheese. More Jack on top and crunchy celery...this was a TOUCHDOWN.
I'm not sure your Super Bowl party will be complete without them. I made these in individual stoneware bakers, two enchiladas in each one. I admit I love serving food in smaller portions, it's always more fun. You could also make these in a large casserole dish, you'll just have to double or triple the amount of ingredients.
Even if the corn tortillas break a little on top when you roll them, it's okay since you will be covering it with lots of cheese. And I have a question, is anyone watching the Super Bowl this year for the game? It seems every one I have come in contact with says they are not thrilled with the teams. Most will be watching for commercials and the food. Ha-ha perfect. You better make extras!
Triple Cheese Buffalo Chicken Enchiladas
Recipe by Cathy Pollak for NoblePig.com | Serves: 12 enchiladas
Ingredients:
1 (3-3-1/2 pound) rotisserie chicken, shredded
12 corn tortillas
2 bottles Frank's Buffalo Sauce (you will have leftover)
1 (8 ounce) tub whole milk ricotta cheese
1 (8 ounce) tub crumbled blue cheese
1 pound Monterey Jack cheese, shredded (shred your own)
4 stalks celery, chopped
sour cream for garnish
Directions:
Preheat oven to 375 degrees F. Pour a thin layer of buffalo sauce on the bottom of what ever baking dish you are using.
Dip each tortilla into buffalo sauce, completely coating each side. Fill each tortilla with ricotta cheese, chicken, Monterey Jack and blue cheese. Roll up the tortilla and place seam down in the pan.
Cover all enchiladas with remaining Monterey Jack cheese. Drizzle more buffalo sauce on top of cheese. Place in oven and bake for 20-30 minutes, until all cheese is melted and enchiladas are warmed through.
Top with celery and even though it's not shown, a dollop of sour cream goes nicely and helps counteract the spicy flavors.
Cathy owns a vineyard and winery in the Willamette Valley of Oregon. She is a food writer for Davis Life Magazine and blogs daily about wine, food and everyday living. She lives with her husband and two sons. You can visit her at noblepig.com.