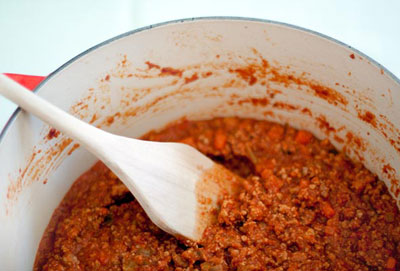 Tortellini has been a part of our family's Christmas day repast since our kids were … well, since they were kids. We used to make tortellini in brodo, a Northern Italian Christmas tradition. I would make a chicken, beef-bone and vegetable broth on Christmas Eve and then on the day we'd all pitch in to make sheets of fresh pasta and a meaty, cheesy, herby filling out of which we'd fashion hundreds of little belly-button-shaped beauties to float in the rich steaming broth. At the table we'd grate Parmigiano over the top and count our holiday blessings.
One year instead of broth I served the tortellini in a bolognese sauce and it was such a hit we haven't been back to broth since. I use Marcella Hazan's classic recipe for the meat sauce and I follow it to the letter because it's quite perfect. Well, in truth, I add a bit more onion than she calls for. I'm a whore for onions. I tripled the recipe this year because I knew once I tasted it I would want to have more in the fridge for later. This is where the trouble started.
There's something supremely satisfying about Marcella's bolognese. Bubbling a cup or two of milk through the meat before adding the tomatoes creams up the sauce and sweetens it. And the five-hour simmer patiently breaks down the components and gives them time to take advantage of each other. It's a meat sauce to dream about and this year's version was no exception. The kids and I scarfed down our beefily-sauced tortellini while Jill tucked into her lentils with vegan gusto. Ah, chacon à son goût.
The next day, after our kids departed for New York, I reheated the leftover tortellini bolognese and was disappointed to remember that you can't reheat tortellini. They're a one-time deal. What is sublime in its initial incarnation becomes doughy and stupid when you try to bring it back. So, what's a hungry fellow to do?
I brought out the rest of the bolognese, which had only been depleted by a third. I put a nice-sized single helping of it into a pan and slowly reheated it, adding a bit of oil, while I brought some rigatoni to the boil. Just before the pasta reached al-dente-land, I ladled some its water into the slowly warming meat sauce. Bingo! Dinner #2.
The next evening, while Jill was sautéing some tofu and spinach, I thought I'd play around a little bit. I slow-cooked a sliced onion in oil while the pasta water was heating. Then I added a can of San Marzano tomatoes, some hot pepper flakes and salt and let it simmer. Then I dolloped the rest of the bolognese from the fridge into the tomato sauce and had a portion of that with the rest of the rigatoni — cheese on top, of course. Dinner #3.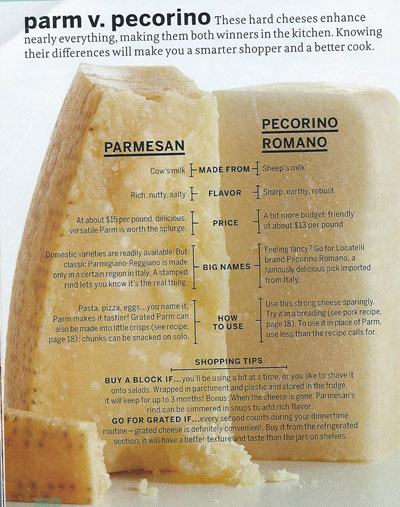 I now had the rest of this bastardized sauce in the fridge — certainly no longer a bolognese yet more than a tomato sauce. It was kind of a tomato/onion/meat sauce with some hot pepper thrown in. For lack of a better name, we'll call it sugo tuckerini.
The next evening was lovely. It was snowing lightly; we had the fireplace blazing in the kitchen and Jill was doing kale with toasted walnuts on the stove. I hauled my little bastard out of the fridge. I had picked up a couple of Italian sausages from A&S Italian Fine Foods of Fairfield and par-boiled them to half done in a pan while I warmed the sugo tuckerini and boiled the pasta water.
Then I sliced up the sausages, flashed them in hot oil and added them to the sauce. I decided to eschew rigatoni that night and instead boiled up a half-pound of Alfetra spaghetti that I had bought at Eataly the last time I was in the city. I'm a big believer in splurging for high-quality pasta. It makes a huge difference in taste and texture and costs just a few bucks more.
I now had to find a bowl large enough to accommodate a half-pound of spaghetti swaddled in this latest permutation of sugo tuckerini. I tossed it all into a tin kitchen bowl and brought it to the table. For this dish I grated some pecorino romano, which is saltier and more forceful than parmigiano and it helps to temper the unctuousness of the sausages.
What could I call this new sauce? Good. I called it Good Sauce. Sugo buono. I'm proud to say that I could breeze through this double portion of pasta due to my digestive system having been in training since Christmas Day.
The following morning I couldn't button my pants.
Michael Tucker is an actor and author whose recent novel is "After Annie
." He writes about his love of food on his blog Notes from a Culinary Wasteland.