Buffalo Wings with Blue Cheese Dressing
by Susan Russo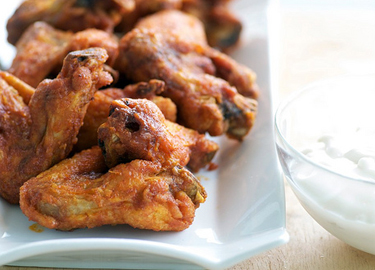 The greatest thing to come out of Buffalo, NY is their wings.

Buffalo wings are chicken wings and drummettes that are fried without breading and then coated in a vinegar based sauce typically comprised of melted butter and hot sauce. They're served with a cool, tangy blue cheese dressing for dipping and some crisp celery sticks.

Buffalo wings are the ideal party food guest: they get along well with others like pizza and nachos, and they're best buds with cold beer.
So they've got to be part of your Super Bowl party line-up, even if you're making different wings like my Maple-Beer-Chili Chicken Wings (which you really, really should). They're too self-confident to be intimated by other wings at the party.


Buffalo Chicken Wings with Blue Cheese Dressing
Makes about 15-17 wings; 4-6 servings

Buffalo Sauce:
1/4 cup melted butter
1/4 cup hot chili sauce
1/4 cup Tabasco
1 tablespoon cider vinegar
1 tablespoon ketchup

Blue Cheese Dressing:
1/2 cup mayo
1/2 cup plain yogurt
1/2 cup crumbled blue cheese


3- 3 1/2 pounds chicken wings, tips removed (about 15-17)
canola oil
celery sticks

1. For the buffalo sauce, whisk all ingredients in a bowl.

2. For the blue cheese dressing, stir ingredients together in a small bowl. It will be lumpy.

3. Pour 4-5 inches of canola oil in a medium pot over high heat. Pat wings dry. Place in very hot oil (about 350 degrees F) for 10 minutes, or until golden and crisp. If you don't have a thermometer, test the oil's heat by adding a bit of chicken fat to the hot oil. It should sizzle and float to the top, surrounded by bubbles. Place on a paper-towel lined plate to drain. Cook in batches so they're not overcrowded.

4. Transfer cooked wings to a large bowl and cover with buffalo sauce. Toss well. Serve with blue cheese dressing and celery sticks.

Note: When buying chicken wings, look for "party wings" or wings that already have the tips removed. They're usually slightly more expensive, but you get more meat for your money and will save time by not having to remove the tips yourself.


Healthier Baked Buffalo Wings (if you must):
1. Spread chicken wings in a single layer on a large baking sheet. Drizzle with 1 tablespoon canola oil and season with salt and black pepper. Bake at 425 degrees F for 25 minutes, turning once, or until golden brown and crispy.
Susan Russo is a free lance food writer in San Diego, California. She publishes stories, recipes, and photos on her cooking blog, <Food Blogga and is a regular contributor to NPR's <Kitchen Window. She is also the author of two books "Recipes Every Man Should Know" and "The Encyclopedia of Sandwiches."
New York


by

Michael Tucker





I had an experience the other night that was right out of Larry David's universe or Seinfeld's. A classic. I'll try to describe it for you.

It was around 9:45 and I was at Danji, the wonderful...

Read more...

New England


by

Lisa Dinsmore





While back home in Massachusetts for my father's 70th birthday – which is so hard to believe – my husband, older sister Sue and I wanted to take him out one night for a first-class, adult meal...

Read more...

Michigan


by

Mandy Blake





I have a vivid memory of my parents entertaining friends on Christmas Eve in 1982. My mother threw all of her Protestant tradition out the kitchen window and ordered Zingerman's pastrami on rye...

Read more...

Las Vegas


by

Amy Ephron





It's not about over-abundance, although it sort of is. I'm not the kind of person who loads their plate up full to the brim -- in fact, I don't even like it when my food groups touch, although...

Read more...