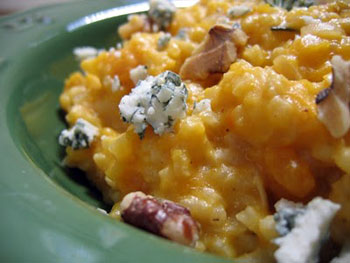 When we first moved to Southern California, we thought we were in pretty good shape; turns out that "pretty good shape" is a relative phrase. Even the guy bagging our groceries knows his body fat percentage. In fact, the popular gym chain, 24 Hour Fitness (yes, they are open 24 hours a day), originated here. That pretty much says it all.

After a killer leg workout at the gym this past Sunday, we wanted to treat ourselves to a mega-carb meal. Since I had a butternut squash saved and had just purchased some fresh rosemary, I decided to make butternut squash risotto.

I prefer fresh rosemary to dried because its soft needles are much more redolent and its flavor is brighter. In this butternut squash risotto, it heightens the flavor of the squash and balances the pungent blue cheese.

I know some people don't make risotto because it takes too long and the continuous stirring is tedious. Well, I'll let you in on a secret: I've been making risotto for years, and I don't stir it continuously. Malto Mario would be disappointed, I'm sure. But it never seemed to make any significant difference to me. And now Jamie Oliver (in Jamie's Italy) has vindicated us non-stirrers, saying he stirs only intermittently as well.
True, making risotto is not a 10-minute meal. But trust me, it's worth the work (and a few extra reps on the leg press).
Butternut Squash Risotto with Rosemary, Walnuts, and Blue Cheese
1 teaspoon olive oil
1 teaspoon butter
1 shallot, diced
1 cup butternut squash, roasted
2 1/2 cups low-sodium vegetable broth (or as much as needed)
½ cup Arborio rice
¼ cup half n' half or milk
1 teaspoon fresh rosemary, chopped
1/8 cup grated Parmesan cheese
1-2 tablespoons crumbled blue cheese
1/8 cup toasted walnuts, chopped
Salt and pepper, to taste

Pre-heat oven to 300 degrees; place walnuts on a baking sheet in oven for about 10 minutes, until slightly toasted and fragrant.

Bump up the heat to 400 degrees. Slice squash in half, remove seeds, and rub with a little olive oil; roast face-side down for 40-45 minutes or until tender when pierced with a fork. Once the squash is cooked, scoop out the flesh, and mash it by hand. It will be added to the cooked risotto later.

Meanwhile, heat broth in a saucepan over medium heat, then lower to a simmer.

For the risotto: In a large metal skillet, saute the shallots in olive oil and butter. Add the Arborio rice; toast for about 1 minute. Cook the risotto at a slow simmer, adding heated broth ½ cupful at a time. Stir occasionally, making sure the risotto absorbs the liquid before adding more; just be careful not to let the bottom burn. As it continues to absorb the liquid, it will become tender and creamy. Also, season with some salt as you go along.

I use 2-3 cups of broth for this recipe, but use more or less as needed. It usually takes about 20 minutes for the risotto to become completely cooked; but taste it. It should be wonderfully creamy and thick; it's best al dente, which means it should still retain some firmness when you chew it. At this point, add the cooked squash, half n'half or milk, ½ the rosemary, and some salt & pepper; stir well.

Remove from heat; stir in Parmesan cheese now, as it will melt more slowly. Add some salt and pepper as needed. Most cookbooks suggest adding 1-2 Tbsp. butter at this point, but it's optional (and a lot fewer calories without it). Plate your risotto, topping it with crumbled blue cheese, toasted walnuts, and the rest of the chopped fresh rosemary. Eat right away to enjoy its velvety goodness.

Makes 4 portions. (or 2 if it's after a leg workout)
Susan Russo is a free lance food writer in San Diego, California. She publishes stories, recipes, and photos on her cooking blog, <Food Blogga and is a regular contributor to NPR's <Kitchen Window. She is also the author of two upcoming books that will be published in the fall of 2010.