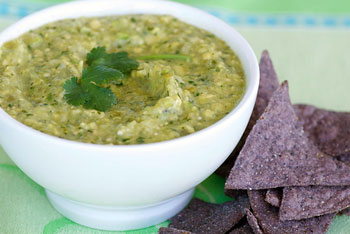 As football fans gear up for Super Bowl Sunday, they'll buy more than 50 million pounds of avocados, almost all of which will be transformed into guacamole. How will all this guacamole get eaten? With chips, of course. 15, 000 tons of chips.

That's enough guacamole to cover a football field, end zone to end zone, waist deep.

Guacamole couldn't be easier to make, so skip the pre-made containers at the super market and make your own this year.

Though I love traditional guacamole, I'll be making my Roasted Tomatillo Guacamole Sunday, a palette-tingling concoction of silky avocado, tangy tomatillos, and hot serrano chili. Tomatillos (toh-MAH-tee-YOS), also known as green tomatoes, are a staple in Mexican cuisine, beloved for their tart, citric flavor, not unlike a Granny Smith apple. When selecting, look for smooth, crisp, papery skin and firm, brightly colored green fruit.
Roasted Tomatillo Guacamole
Makes 2 to 2 1/4 cups
6 tomatillos, husks removed, rinsed, cut into chunks
1 small yellow onion, cut into chunks
1 serrano chili, stem removed
2 teaspoons olive oil
2 ripe avocados
Juice of 1 small lime
1/2 cup chopped fresh cilantro
Several shakes of salt
Place tomatillos, onion and chili in a 9- to 10-inch baking dish. Drizzle with olive oil. Broil for 12 to 15 minutes, or until brown, charred spots appear on the vegetables. Cool. Place in a food processor with remaining ingredients. Pulse until slightly chunky. Chill before serving.
Susan Russo is a free lance food writer in San Diego, California. She publishes stories, recipes, and photos on her cooking blog, <Food Blogga and is a regular contributor to NPR's <Kitchen Window. She is also the author of two books "Recipes Every Man Should Know" and "The Encyclopedia of Sandwiches."