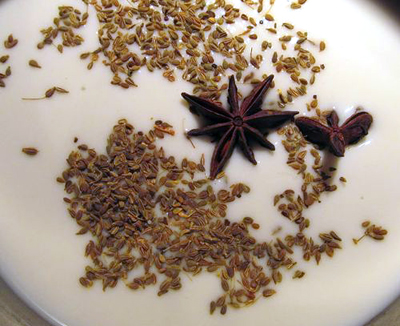 I bake and make desserts all winter. It might be something to do with cocooning or comfort or simply loving desserts, but this winter especially I have been baking up a storm. To change it up a bit, I made a pillowy-soft cloud of star anise scented espresso custard and piled it on top of crisp Italian lady fingers. A spoonful alone transported me to Italy…….to a little cafe where I stood at the bar and spooned anise froth into my mouth from an espresso cappuccino.
So simple. So wonderful.
It starts with steeping anise seeds and star anise in milk. You add egg yolks and sugar to begin making the custard. Whip cream till stiff, fold it in, and there you have it.
It was luscious. Light. Frothy. And less expensive than a plane ticket to Milan, a car drive to Turin, and a memory to remember where that wonderful little cafe actually was.
Pillowy Anise Espresso Custard
Ingredients:
1/4 cup milk
1 star anise
1 teaspoon anise seeds
4 egg yolks
1/2 cup sugar
2 tablespoons flour
1/2 teaspoon vanilla extract
1/2 teaspoon anise extract
1 teaspoon instant espresso coffee granules
1 cup heavy cream, cold
lady fingers
Cooking Directions:
In a small saucepan, heat the milk, star anise and anise seeds to a boil, turn down the heat to a simmer, cover, and cook on very low for 10 minutes.
Strain the milk to eliminate the star anise and seeds through cheesecloth.
In a medium saucepan, add the egg yolks, sugar, flour, vanilla, anise and instant coffee and whisk. Add the milk and whisk to combine. Heat the mixture, constantly whisking on and off the heat, until it thickens. Cool to room temperature.
Beat the cream until stiff, fold 1/3 into the custard until combined, then gently fold in the rest until just combined.
Spoon over lady fingers and dust with instant espresso powder before serving.
Hillary Davis is the author of French Comfort Food, Cuisine Niçoise, and A Million A Minute. She is presently at work on her next cookbook. You can follow her food adventures in France and around the world on her blog Marché Dimanche.