I love recipes that don't require mixers, beaters and lots of bowls. These squares really should be called Date Nut Brownies because of their soft and chewy texture. The combination of dates, nuts and brown sugar make them reminiscent of Sticky Toffee Pudding. These moist bars will make anyone a fan of dates which are one of the best natural sources of potassium.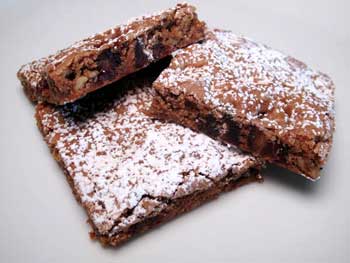 4 tablespoons unsalted butter, at room temperature
1 cup brown sugar
1/2 teaspoon salt
1/8 teaspoon baking soda
1 teaspoon vanilla
2 eggs
1 cup whole wheat flour (4.5 ounces)
1 cup chopped pitted dates
1 cup chopped walnuts

Preheat oven to 350°F and adjust rack to middle position. Lightly butter a 9x13 pan and set aside.
Beat butter, sugar, salt, soda, and vanilla in a medium bowl until smooth. Beat in eggs, scraping the bowl and mixing until well combined.
Beat in flour, dates, and nuts. Scoop the batter into the prepared pan. Using wet hands, press the dough and smooth batter into an even thin layer.
Bake the squares until golden brown, about 22 minutes. Remove pan from oven and let cool on wire rack for 30 minutes. Cut into 2" squares and dust squares with confectioners' sugar.
– Recipe courtesy of Cook Like James