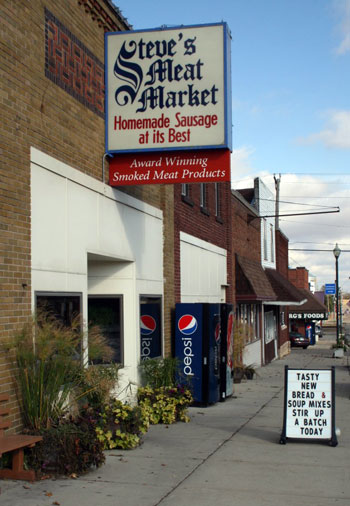 Every time I step into a meat market, I think of my mom. I can't count the times I impatiently waited as she stood in front of the clear glass that separated her from rows of raw meat. As the butcher stood on the other side of the meat case waiting for her order, she examined the ground beef and the red, marbled roasts.
She carefully inspected the pork chops and the loins. The beef she would eventually purchase must have just the right amount of marbling running through. The pork must have enough fat to give it flavor and keep it moist as it cooked.
Somehow, my antsy behavior in all of those meat markets I frequented with my mother has made a complete turn-around over the years. I've become my mother. Meat markets and chocolate shops (she couldn't pass up a Fanny Farmer store) are high on my list of places I love to visit.
Last week I had the opportunity to stop into Steve's Meat Market in Ellendale, Minn. Owner, Donnavon Eaker, was busy helping a customer as I stepped into the smokehouse-scented store.
"Having steaks on the grill tonight?" the petite Eaker asked her customer as she added up the cost of the meat purchase. The happy customer shared her plans for that day's meat purchase and walked out with a hefty bag of meat.
Warm and friendly Donnavon Eaker took time to visit with me. She told me a little bit about how she wound up where she is today. After spending a couple of years working in the Twin Cities, Eaker and her husband, Steve, were young and eager to move back to the area of Minnesota where they grew up. Steve Eaker, a trained meat-cutter who had been butchering with his grandfather since he was a youngster, and wife, Donnavon, bought a small grocery store and meat market on Ellendale's main drag. That was 39 years and many smoked sausages ago.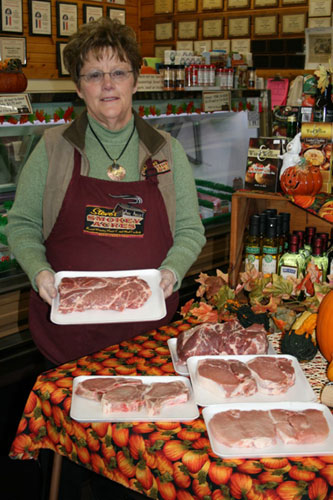 Steve's real love was sausage-making. Eventually, Steve Eaker made hundreds of smoked and home-cured meats and sausages available to meat-loving customers. Over the years, Steve became known nationally for the smoked sausages and cured meats he produced. Framed state and national awards cover the walls of Steve's Meat Market, recognizing standard of excellence in his meat products, including grand champions and best of show.
I stood amidst shelves lined with olive oils, soup mixes, bread mixes and other gourmet specialty food items as I visited with Donnavon, mostly about pork. I wondered why the pork roasts I make never have the juicy flavor of those Sunday roast pork, sauerkraut and dumpling dinners my mom used to serve. Donnavon knew the answer to my problem.
It seems I can place the blame for the dry pork roasts that come out of my oven on today's pork consumers. "Today's consumers demand a different product," said Donnavon. According to this veteran in the business of meat, today's shoppers don't want thin ribbons of fat running through their pork loin roast. They don't want to see a nice thick layer of fat covering the top. They want lean. Lean means no fat. No fat means little or no flavor. Not much juiciness, either. It's hard to keep a very lean piece of meat moist while it cooks. After a brief stop for some fun-loving banter with a couple of camouflage-clad guys shopping in the store, the feisty business-owner continued to address my pork challenge.
"Today's consumers demand perfection. Boneless pork roasts with hardly a bit of fat and chops with no bones, all the same size — that's the kind of meat product they want to buy," said Donnavon. She continued. "Families are smaller today than they were 20 and 30 years ago. People want smaller hams. They want smaller cuts of meat because they are eating smaller portions than they used to," said Donnavon. "Hogs raised by contract farmers for large meatpacking companies get strict instructions on how and what to feed the animals within a specific time period to control size and produce lean muscles on hogs."
So, what's a person who misses her mother's roast pork, the old-fashioned kind that sported fat, supposed to do? Again, Donnavon had some expert advice. "Just add a piece of pork that is a bit more fatty. For instance, when you prepare your Slow Cooker Pork Chops and Kraut, add a slice of pork cut from the shoulder. It's less expensive than loin chops and contains some fat. It will add flavor and moisture to your finished dish." Steve and Donnavon learned a lot about meat, sausage, curing and smoking meat and offering first-rate customer service as they worked their business together. Tears come quickly to the bright eyes behind the glasses perched on Donnavon's nose as she talks about the death of her dear husband five years ago. Since that time, their youngest daughter, Rachael Lee, has worked the business with her mother, continuing the same attention to perfection that her father always demanded.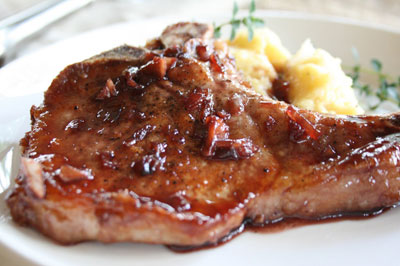 I left Steve's Meat Market feeling as though I had a new friend. I chewed on Sweet Bologna Sticks as I headed north on Interstate 35W, a perfect blend of beef and pork sweetened with brown sugar and maple syrup, spiked with secret spices and balanced with just the right amount of salt. And, I thought about how much my mom would have enjoyed a shopping trip to the Ellendale meat market. On Sunday, my husband made dinner. Pork chops, bone-in, lean, with a chokecherry glaze. Polenta on the side. Delicious. He adapted a recipe we found in a cookbook I bought at a used-book store in Chicago last week. "Cooking with Caprial: American Bistro Fare," by Caprial Pence.
This is his version. We didn't have a fatty cut of pork to add to the pan for added moisture and flavor, as suggested by Donnavon Eaker. Still, the pork chops and polenta were luscious.
You are going to love the easy-to-make glaze. It was the first time my personal chef made polenta. He was surprised at how uncomplicated it was to prepare in just minutes.
Pork — lean, glazed and amazing. But, this consumer really doesn't mind a bit of fat.
Chokecherry-Glazed Pork Chops with Parmesan Polenta
2 pork chops Salt and black pepper, to taste
2 tablespoons olive oil, divided
1 cup chicken broth
6 cloves garlic, minced, divided
2 shallots, minced, divided
1/3 cup finely ground corn meal
1 ounce Parmesan cheese, grated (my chef used Sartori Montamore cheese that we buy at our local food co-op)
1/4 cup dry red wine
1/4 cup North Dakota chokecherry jelly (We bought our jar at a farmers market. Use any chokecherry jelly or currant jelly)
1/4 teaspoon cracked black pepper
Preheat oven to 350 degrees F. Season pork chops with salt and pepper. Heat 1 tablespoon olive oil in a large, ovenproof saute pan until smoking hot. Add the chops and brown on both sides over high heat, about 2 minutes on each side.
Slide the pan into preheated 350-degree oven and bake until internal temperature of pork chops reaches 145 degrees, about 15 minutes. While pork chops are cooking, prepare the polenta.
Heat remaining 1 tablespoon of olive oil in a small saucepan. Saute half of shallots and half of garlic in the hot oil for 2 minutes. Add chicken broth. Bring to a boil. Slowly whisk in cornmeal, being careful mixture does not get lumpy. Cook the polenta over medium heat until the mixture is thick, just a few minutes. Add the cheese and mix well. Season with salt and pepper. Keep polenta warm while the pork chops finish up.
Remove pan of chops from the oven. Transfer chops to a plate and cover with foil. Add remaining shallots and garlic to pan and saute over medium heat for 2 minutes. Add red wine and boil until reduced by half. It will take just a minute or two. Add jelly and cracked pepper and stir until jelly melts.
Put pork chops back in pan and turn to coat both sides with glaze. Remove from heat. Serve warm chops with polenta. Makes 2 servings.
Sue Doeden is a popular cooking instructor, food writer and integrative nutrition health coach. She is the host of Good Food, Good Life 365 on Lakeland Public Television. Her own hives full of hardworking bees and her love of honey led to the creation of her recently published cookbook, Homemade with Honey.