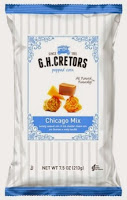 Snacks are part of the American way of life. We are a nation of snackers. Because I work from home, I have no "break room" stocked with drinks and snacks, but that doesn't mean I don't help myself to a nibble now and then. I most frequently indulge in snacks when I'm traveling because it's not always easy to find a satisfying meal in between departure and arrival. In general I prefer healthier snacks, they just taste better to me. Stock up on these for the home, office or on to take the road.
When I pass through Chicago O'Hare, I sometimes buy some "Chicago mix" that wacky sounding but utterly delicious combination of caramel corn and cheese corn. Each bite is salty sweet and so crisp and buttery. I've never found anything as good as what they sell in Chicago, until I got a sample of G.H.Cretors. They offer cheese popcorn and caramel corn separately but trust me, you want to try them combined. So truth be told, these are not the healthiest, but healthier than potato chips, so that's something.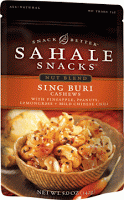 Sahale Snacks
I've been crazy about these creative fruit and nut mixes since I tried them at the Fancy Food Show a few years ago. Not your typical trail mix, they come in amazing flavor combinations like Pomegranate, Pistachios with Almonds, Cherries and Black Pepper or Sing Buri Cashews with pineapple, peanuts, Lemongrass and Mild Chinese Chili. The "Crunchers" come in both sweet and savory formulations like Cranberries, Sesame Seeds or Honey Almond Snack with Parmesan Cheese and Herbs. Depending on the flavor, they are recommended for use on salads, yogurt and oatmeal, rice and pasta. I think they would be great on stir fried vegetables as well.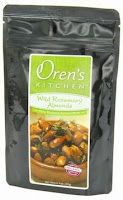 Oren's Kitchen
When putting together a gift for a friend, I remembered how good these nut mixes are and added a pack. They come in flavors like Smoked Paprika Pecans and Coconut Chili Macadamias, but my favorite are the Wild Rosemary Almonds, which are perfectly slow roasted. Good as a snack but they could also be chopped and added to salads or served with a cheese plate.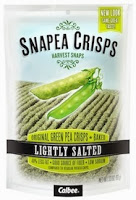 Snapea Crisps
Perhaps you've come across these cute little snacks that look like snap peas, but are made from legumes like dried red lentils, beans and green peas. They taste like junk food, but they are much healthier than potato chips with almost half as much fat and sodium. They come in different flavors like Tomato Basil, Onion Thyme and Wasabi Ranch. I've enjoyed each of them that I've tried, but I warn you, an open bag is moments away from being an empty bag…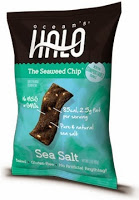 Ocean's Halo
It's hard to describe the flavor of seaweed. It's kind of earthy and briny but herbal too. You probably either love it or hate it. I love it. I like those crisp little seaweed snacks that you find all over these days. But now there's a chip made from seaweed that has a much crunchier thicker texture, but the same intense flavor of the sea. I really like the sea salt flavor and look forward to trying the chile lime and Korean BBQ versions too. Halo snacks are available at select Whole Foods markets. As an added plus, the bag they come in is 100% compostable, though not edible! That would be pretty cool though.
Amy Sherman is a San Francisco–based writer, recipe developer, restaurant reviewer and all around culinary enthusiast. She blogs for Epicurious , Bay Area Bites and Cooking with Amy .