Guinness Stout Ginger Cake
by Cathy Pollak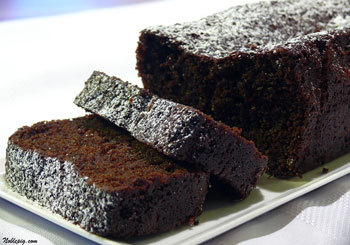 If ginger is your thing, this is most definitely for you. I sit here writing and contemplating if I should go get another piece...it would be my fourth. There is something about 10 degree weather that makes you want to bake and eat. So I did.

Let me mention the incredible flavor this cake has to offer. It has so much complexity and richness between the Guinness, the molasses, fresh and ground ginger and other spices. However, the best part is how incredibly moist this is...just look at it.

I truly feel if you are going to gift a loaf, this should be the one. At the very least try it for yourself, it's worthwhile to bake up. I also think it would be splendid with a dollop of whipped cream. Yum.

Oh, I almost forgot, no mixer is needed, that's always the best.
Guinness Stout Ginger Cake
Adapted from FOODday - The Oregonian

1 cup Guinness stout
1 cup molasses
1/2 Tablespoon baking soda
3 eggs
1/2 cup granulated sugar
1/2 cup firmly packed dark brown sugar (do not substitute light brown)
3/4 cup vegetable oil
2 cups all-purpose flour
2 Tablespoons ground ginger
1-1/2 teaspoons baking powder
3/4 teaspoon ground cinnamon
1/4 ground cloves
1/4 teaspoon freshly grated nutmeg (I used ground)
1/8 teaspoon ground cardamom
1 Tablespoon peeled and grated fresh ginger
Sprinkle with confectioner's sugar, optional
Serve with a dollop of whipped cream, optional

Butter a 9 x 5 loaf pan, line the bottom and sides with parchment and grease the parchment with butter as well. Or butter and flour a 6-cup Bundt pan.

In a large saucepan over high heat, combine the stout and molasses and bring to a boil. Turn off the heat and add the baking soda. Allow to sit until the foam dissipates; this takes about 10 minutes.

In a bowl, whisk together eggs and both sugars. Whisk in the oil.

In another bowl, combine flour, ground ginger, baking powder, cinnamon, cloves, nutmeg and cardamom.

Combine the stout mixture with the egg mixture, then whisk this liquid into the flour mixture, half at a time. Add the fresh ginger and stir to combine.

Pour the batter into the loaf pan and bake for 1 hour in a 350 degree oven, or until the top springs back when gently pressed. Do not open the oven until the gingerbread is almost done, or the center may fall slightly. Transfer to a wire rack to cool.

Cooking Notes: In order for the batter to fit into your loaf pan, you must be using a 9 x 5 pan. Even though my loaf pan is stamped with that size on the bottom, all of the batter did not fit. I immediately contacted Danielle Centoni, a food writer for The Oregonian. She suggested my loaf pan may not be a true 9 x 5 and she was right. When measured from the inside, my pan was 8.25 x 4.5, therefore, the batter did not completely fit. The moral of the story, measure your pans from the inside walls to get the true measurements. I ended up using two of 8 x 4 pans and divided the batter evenly, reducing the cooking time to 45 minutes. It worked out well but I really wanted that larger, one loaf.

To Give: Wrap loaf or cake in parchment and tie with a ribbon, or wrap again in fabric, a tea towel or colorful tissue before adding ribbon.

To Keep: Cover cake with plastic wrap and keep at room temperature for up to three days or refrigerate up to a week. Or wrap well in plastic wrap, place in a zip-top freezer bag and freeze for 2 to 3 months.
Cathy is currently in the development stages of her vineyard and winery in the Willamette Valley of Oregon. She is a food writer for Davis Life Magazine and blogs daily about wine, food and everyday living. She lives with her husband and two sons. You can visit her at noblepig.com.
Los Angeles


by

Telly Kousakis





After a screening of the frightening (and somewhat hilarious) Paranormal Activity my pals and I wanted to grab a drink and maybe some chow. Three of us, on separate occasions, by different...

Read more...

Mid-Atlantic


by

Scott R. Kline





The Northgate Soda Shop in Greenville, South Carolina proved an elusive target for a burger. But one can never keep a good burger seeker down.

Our trip across South Carolina continued as we...

Read more...

Los Angeles


by

Jo Stougaard





Chef Walter Manzke's smile is infectious. Wait, maybe I shouldn't say "infectious" since we're in the middle of the H1N1 Flu scare (I refuse to call it the OTHER name because I love my bacon).

Read more...

San Francisco


by

Amy Sherman





You may have eaten at Slanted Door or even at Out The Door either at the Ferry Building or at San Francisco Centre, but you're going to want to try OTD Bush in the Fillmore. In addition to many...

Read more...