Favorite Find - Le Bon Garcon
by Lisa Dinsmore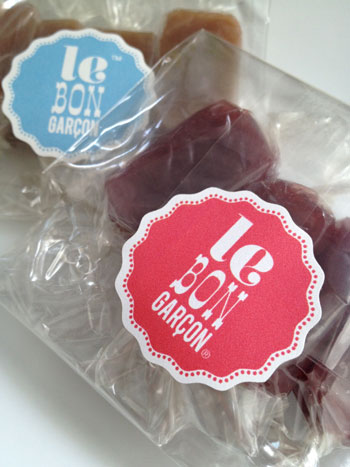 I lost my sweet tooth long ago. Except for one thing. Caramel. I just can't resist it. That doesn't mean I always love it though. Plenty of people are trying to capture my heart and tastebuds, but few rarely capture my imagination. Le Bon Garcon is one of them. Though apparently they captured Oprah's love first. I didn't know that when I got the opportunity to try Justin Chao's creations. Originally an architecture student, he traded in the drafting table for a kitchen one and found his passion in pastry. After studying in Paris and returning to Los Angeles, he formed Le Bon Garcon, which uses Plugra butter and no preservatives in their hand-crafted and wrapped caramels. You may think you've had amazing Salted Caramel. You'd be wrong. But I wasn't surprised I LOVED that one, I mean come on. It's salt and butter, people.
I was intrigued by the Rosé (a seasonal flavor only available until 9/15), as I didn't know caramels came with other flavors and this blend of raspberry, lychee and rose essence just sounded so perfectly ethereal. And it is. Light and lingering, perfectly summery. I was going to skip the Mango, which is blended with cardamom and ginger. Even though I like all those things, I couldn't wrap my head around mango caramel; however, it is one of his signature flavors, so I gave it a shot. Holy cow! This one blew my mind. It's so intense, like a Starburst from my youth, but so much more classy and luscious and mangorific. The Macadamia was also good, but I like my caramel unadulterated by nuts. The Man thought it was great. To each their own. Even the packaging was lovely - simple yet colorful and fun. If you have a caramel lover in your life, they need to know about Le Bon Garcon. Excuse me while I go get another piece. http://www.lebongarcon.com
Los Angeles


by

David Latt





We had planned to spend New Year's Eve with friends and family but the flu and changes in schedules left us on our own. The New Year deserves to be celebrated, so we organized a dinner the first...

Read more...

London - British Isles


by

Carolan Nathan





When visiting London recently and wanting to try some of the vaunted restaurants there I was fortunate to find The Royal China Restaurant which together with its sister/brother Sun aptly called...

Read more...

Los Angeles


by

Jo Stougaard





My first taste of Chef Josiah Citrin's cooking was at the James Beard "Chefs and Champagne" event in May. Melisse served a Spring Veal with Anson Mills Polenta, Morel Essence and Red Wine Jus. I...

Read more...

Southern California


by

Maylynn Morales





With my weekend plans suddenly cancelled, I got to drive up my beloved Central Coast for a second visit to Cambria in a month. Both times, I had one place in mind at which to dine: Black Cat...

Read more...