Favorite Find - Le Bon Garcon
by Lisa Dinsmore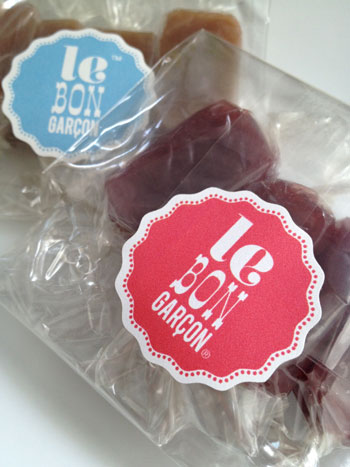 I lost my sweet tooth long ago. Except for one thing. Caramel. I just can't resist it. That doesn't mean I always love it though. Plenty of people are trying to capture my heart and tastebuds, but few rarely capture my imagination. Le Bon Garcon is one of them. Though apparently they captured Oprah's love first. I didn't know that when I got the opportunity to try Justin Chao's creations. Originally an architecture student, he traded in the drafting table for a kitchen one and found his passion in pastry. After studying in Paris and returning to Los Angeles, he formed Le Bon Garcon, which uses Plugra butter and no preservatives in their hand-crafted and wrapped caramels. You may think you've had amazing Salted Caramel. You'd be wrong. But I wasn't surprised I LOVED that one, I mean come on. It's salt and butter, people.
I was intrigued by the Rosé (a seasonal flavor only available until 9/15), as I didn't know caramels came with other flavors and this blend of raspberry, lychee and rose essence just sounded so perfectly ethereal. And it is. Light and lingering, perfectly summery. I was going to skip the Mango, which is blended with cardamom and ginger. Even though I like all those things, I couldn't wrap my head around mango caramel; however, it is one of his signature flavors, so I gave it a shot. Holy cow! This one blew my mind. It's so intense, like a Starburst from my youth, but so much more classy and luscious and mangorific. The Macadamia was also good, but I like my caramel unadulterated by nuts. The Man thought it was great. To each their own. Even the packaging was lovely - simple yet colorful and fun. If you have a caramel lover in your life, they need to know about Le Bon Garcon. Excuse me while I go get another piece. http://www.lebongarcon.com
New York


by

Fredrica Duke





The East Village is, was and always will be my hood in the big apple. Sure, I now stay on the Upper West Side and much to the dismay of my husband, I gravitate downtown. He will often say...

Read more...

New York


by

Hannah Netter





My boyfriend and I have next to no private time. Much to our chagrin we both are currently back in our parent's houses and our date nights generally consist of holing up in his childhood bedroom...

Read more...

Arizona


by

Lisa Dinsmore





One of the things I love most about traveling is finding out-of-the-way places to visit. Especially ones that have a cool history to go along with their surroundings. Which is how we found...

Read more...

Los Angeles


by

David Latt





People who don't live in Southern California forget that in the winter, the temperatures can drop into the 40s and even the 30s at night. That's mild compared with the weather experienced by our...

Read more...