Epic Apple Pie-Buttermilk Shake
by Cathy Pollak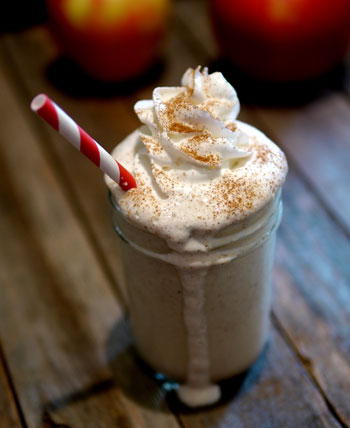 Epic. It's my new favorite word. I can't stop saying it. And I'm sure everyone around me can't stand hearing it. It's just stuck in my head and currently living on the edge of my tongue.

I used the word WAY too many times yesterday. Once, when describing the epic "blackberry honey-hole" I found during my walk around the meadow. Then again when I mentioned the epic nachos I was making for dinner. And yet another time when I said I needed to go on this epic diet, after I ate the epic nachos and this epic shake. Oy. I guess I need a new word. I think it's going to be pariah. Don't ask me why.
So here's one of the reasons this shake is epic. First of all, when I buy buttermilk, I always buy the Bulgarian version. You see, buttermilk in its natural state is low-fat. It's the thin liquid left over after you churn butter from cream. Commercially-made buttermilk is created by adding bacteria cultures to milk, then heating the mixture to give it that tart, slightly fermented taste.

BUT, the Bulgarian version is a type of cultured buttermilk in which cream cultures are supplemented or replaced by yogurt cultures and fermented at higher temperatures for higher acidity. It can be more tart and thicker than cultured buttermilk. This is why it's epic. It's the only buttermilk I ever buy. And it is thicker and yummier and makes everything taste great. I hope you have it at your market. And I wish I knew why this process makes it "Bulgarian". Anyone?
I also used Apple Pie Spice, which is just an awesome little thing to have around for convenience. It gets used a lot this time of year.
Reason number three this shake is epic...I used real apple, sauteed in butter, sugar and cinnamon. It gave the shake a very authentic apple pie taste. Let's face it, this shake is dinner party worthy. So, if you are bad at making pie crust, just whip this up instead. Trust me, no one will mind.
Epic Apple Pie-Buttermilk Shake
Recipe Created by Noble Pig | Serves: Makes two (8 oz) shakes
Ingredients:
1 large apple, peeled, cored and thinly sliced (I used Honeycrisp)
1-1/2 Tablespoons butter
1 teaspoon granulated sugar
1/2 teaspoon ground cinnamon
3 cups premium vanilla ice cream
1 cup Bulgarian buttermilk
2 teaspoons apple pie spice, more for garnish
whipped cream
Directions:
In a large nonstick pan, melt butter over medium heat. Add apples, sugar and cinnamon. Saute until very soft, about 5 minutes. Remove from pan and let cool to room temperature.
Once apples are cooled, add them to blender with ice cream, buttermilk and apple pie spice. Blend until fully combined. Serve in chilled cups topped with whipped cream and sprinkled with more apple pie spice.
Cathy runs her own vineyard and winery in the Willamette Valley of Oregon. She is a food writer forDavis Life Magazine and blogs daily about wine, food and everydayliving. She lives with her husbandand two sons. You can visit her at noblepig.com.
Los Angeles


by

Ben Chinn





After watching Ludo Lefebvre on Top Chef Masters I knew I wanted try out his food. Around the same time his episode aired he opened up a "pop-up" restaurant at Bread Bar on 3rd St. On Tuesday...

Read more...

New York


by

Michael Tucker





I've been in rehearsal this week for a reading we're doing on Friday. It's a fun piece called "Old Jews Telling Jokes" based on the website of the same name. All this is to say that this week I'm...

Read more...

Los Angeles


by

Lisa Dinsmore





Breakfast is my favorite meal of the day. Especially a hot one. Sometimes cereal or a muffin is all I have time for, but those are mere sustenance. They don't make getting out of bed worthwhile. I...

Read more...

New England


by

David Latt





In the mid-1970s, when I lived in Providence the food wasn't very good. Sure there was great local seafood, especially clams and lobsters, but if you wanted to eat out, your choices were pretty...

Read more...