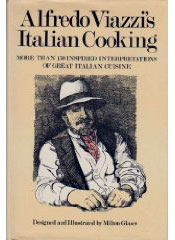 I am an A+ eater and a B- cook. Sad, but true – I'd be so much better off if it were the other way around. I have a couple of A+ dishes in my repertoire, but by and large, I haven't had the time to hone my kitchen skills. Having to bring home the bacon and cook it too is hard work! So I've eaten out as much as I've eaten in for the last 20 years. Nowadays, I'm trying to reverse the trend.

I began my career in Manhattan around the same time that many famous, formal temples of gastronomy like Lutece and La Cote Basque were being replaced in the hearts and wallets of many New Yorkers by small, unpretentious, artisanal restaurants that cared more about the content than the packaging. So I consider myself very lucky to have been there when Trattoria d'Alfredo changed the rules of the game. Alfredo Viazzi introduced New Yorkers to simple, inventive, Italian regional cooking, as familiar to us today as spaghetti and meatballs were then. I loved how this gracious, Savona-born, WWII partisan fighter, writer and cook presided over his flock nightly; I loved that he opened a supper club nearby where his actress/singer wife performed; and I loved the exquisite mocha dacquoise cake made daily for the restaurant by James Beard's partner, pastry chef Gino Cofacci.

But most of all, I loved Alfredo's pasta.

I loved his pasta al pesto. I loved it so much that I bought a Cuisinart to make it at home. I made so much of Marcella Hazan's great recipe so often that eventually I overdosed and could no longer eat it. Still can't.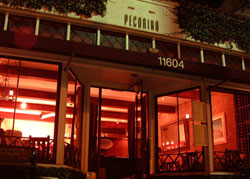 And I loved Alfredo's spaghetti alla carbonara – rustic and elegant at the same time. But something about the raw eggs, pancetta, and deceptive simplicity of the dish intimidated me, so I never attempted to make it at home. Recently though, I decided that I had to put my fear behind me and try, because most restaurant carbonaras in this country can't hold a candle to Alfredo's. Off I went to find the key ingredient, pancetta. I still hadn't found what I considered to be good enough pancetta when a bunch of friends got together for dinner at Pecorino in Brentwood. I'd eaten there many times and always enjoyed it, but I'd avoided the carbonara. Last week I ordered it. Shades of Alfredo in LA…it was fabulous! Creamy, crunchy, salty, peppery, toothy and sublime.

With my determination to make it at home now doubled-down, I asked Mario, the host and co-owner, if he could recommend a place where I could find good pancetta to make my own carbonara. He told me definitively that I shouldn't use pancetta, I should use guanciale…pig's cheeks. But I wondered, if I hadn't yet found good pancetta, how would I find good guanciale? Well, Mario said, we make our own – come back a week from Monday, and I'll give you some!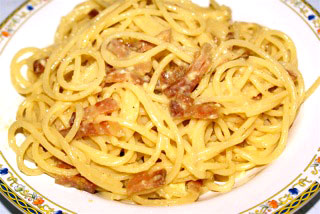 So I did, and he did. And then I made my first spaghetti alla carbonara. Bingo! It was solid...a definite B. Still, I thought I could do better. What I needed was a better recipe, but I'd made the mistake of not asking Mario for his – hadn't he been generous enough? Yet I wanted to honor his beautiful, remaining guanciale, so I cheekily asked if I could come to the restaurant and watch the carbonara be made. Being the exceptional man he is, Mario said "Si, come bella". So now I have studied it being made, and Mario and I have come up with a recipe, as it wasn't written down anywhere.

Clearly Pecorino is my contemporary Trattoria d'Alfredo, and Mario is the man who sees to every detail with the same care that Alfredo did. I love that he is from a small town in Abruzzo, the youngest of eight brothers, all of whom cook. I love that his brother Raffaele is the chef at Pecorino and that sometimes their brother Domenico flies over to give him a break behind the stove. I love that Mario and his partner Giorgio are still friends after five years of partnership. I love that Pecorino is the first place in the U.S. where I have found the splendid Italian winter chicory, puntarelle. Their restaurant is the best of all worlds – warm and sophisticated with delicious, authentic, unfussy food. My friend Ames would lobby you to order the sole with the potato and zucchini crust, but I'm obviously campaigning for the carbonara. I love it as much as Alfredo's. I'm still an A+ eater, but I'm working on becoming a B+ cook.


Pecorino's Spaghetti alla Carbonara (for 3 - 4)

Slice 8 - 10 ounces of guanciale into small, thin strips.
Cook 1 lb of spaghetti in boiling, salted water until al dente.
While the spaghetti cooks, fry the guanciale in a pan (no oil needed); and while that's frying, gently beat together 3 large eggs, 1 generous cup of grated pecorino romano (don't use any other kind), several twists of fresh pepper, a pinch of salt to taste, and per Mario, "just a touch" of cream (1 Tbsp).
When the guanciale is crispy, pour off most of its oil, leaving very little in the pan. Drain the spaghetti.
Remove the frying pan from the heat and toss the spaghetti with the guanciale in the pan. Then, gently blend in the egg/cheese/cream mixture. The heat of the pan and spaghetti will cook the eggs. Sprinkle with some more pecorino and serve.

http://pecorinorestaurant.com/index.html
11604 San Vicente Blvd., Los Angeles 90049
(310) 571 3800

Guidi Marcello, 1649 10th St. in Santa Monica, sells guanciale, though I haven't tried it yet (I've still got some of Mario's). If you decide to use pancetta, Mario says it must be unsmoked.
Ilene Amy Berg (aka The Berger Queen) is a television producer, antiques hunter, New York and London lover, and intrepid food adventuress.