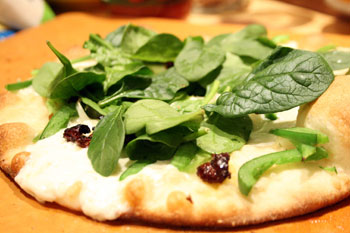 We had overnight guests last weekend. Two couples arrived on Saturday afternoon about an hour before it got dark. The guys immediately strapped on their snowshoes and hit the trail. The "girls" stayed back, with the intention of preparing toppings for the pizzas the group would be making together for our evening meal.
It's nice to have friends who are totally comfortable with a laid-back, casual interactive couple of hours of meal preparation. Last spring I was introduced to the recipe for homemade pizza crust in the April 2011 edition of Food & Wine magazine. The dough is great for beginners who haven't had a lot of experience with yeast dough and who whimper at the thought of kneading dough. A stand mixer with a dough hook does all the work for you. Then, the dough raises for about 1 1/2 hours. The recipe yields 8 balls of dough that can be easily patted and rolled into 8-inch rounds. The thin pizza crusts can be topped with any of your favorite ingredients. I asked everyone to bring toppings of their choice. We wound up with a couple of mean taco pizzas. And, several "green" pizzas.
Did you know transporting leafy greens to your mouth on thin, crisp and hot pizza crust is a blissful experience? If you've been digging in your heels and resisting fresh leafy greens — spinach, arugula, kale, Swiss chard, collards — even though you know very well they are loaded with vitamins, minerals, antioxidants and flavonoids that nourish bodies and help maintain good health, I'm here to tell you they are not as bad as you think. Especially when they are piled onto pizza just out of the oven.
One of the guys created a luscious pizza by brushing a thin round of dough with olive oil. Several fresh ingredients later and after 4 minutes on a blazing hot pizza stone in a 500-degree oven, a pizza was born. Baby spinach leaves were scattered over the top for serving. That pizza is pictured at the top of this post.
I'm partial to peppery arugula on pizza. Arugula is a Mediterranean plant—the Romans claimed it was an aphrodisiac—that also grows wild in Asia and has become increasingly popular in the United States over the last decade. The thin, tender leaves wilt as soon as they hit the heat of the pizza.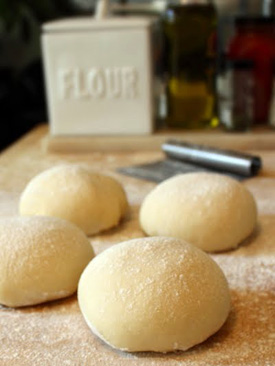 Making pizza is such fun when it's a group project. Have the dough resting in a big bowl on the counter when your guests arrive. A pizza stone should be heating in the oven. You want it to be blistering hot before baking the first pizza. Provide a place for the pizza-makers to roll out their dough along with a rolling pin and some flour for dusting the work surface when needed. Have a wide variety of toppings available in a spot close to the dough-rolling area.
You'll need a pizza peel for sliding the pizza onto the hot stone in the oven and for removing it from the oven to a surface safe for slicing the finished pizza. A little cornmeal sprinkled on the peel promotes easy movement of the pizza onto the stone. If you don't have a pizza peel, there's an informative post at Serious Eats that can help you decide which kind to buy. Mine is made of wood. I like it.
It's fun to see what kinds of toppings you wind up with when you invite guests to bring some of their favorites. The basics are smart to have lined up — you know, the red sauce, olives, mushrooms, sausage, green pepper, onion, cheese. Then, get a little creative.
If you'd rather not make your own pizza dough, you might be able to buy some by the pound at your local pizzeria. Some grocery stores sell fresh pizza dough.
Sun-Dried Tomato, Onion and Spinach Pizza
Brush crust with olive oil. Sprinkle with:
chopped raw onions
minced fresh garlic
chopped sun-dried tomatoes (packed in oil)
chopped green pepper
Lay slices of fresh mozzarella over all. Sprinkle with shredded mozzarella.
Bake on pre-heated pizza stone in 500°F oven for 4-5 minutes.
Top with a big handful of fresh baby spinach leaves when you take the pizza out of the oven.
Sue Doeden is a popular cooking instructor, food writer and integrative nutrition health coach. She is the host of Good Food, Good Life 365 on Lakeland Public Television. Her own hives full of hardworking bees and her love of honey led to the creation of her recently published cookbook, Homemade with Honey.