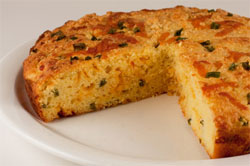 I love Austin, Texas. The people are warm, the food is amazing, and the weather -- well, let's not talk about the weather. Let's stick with the people and the food. One morning while Jeff and I were eating breakfast at an Austin eatery, we started chatting with a lovely elderly couple next to us. The conversation quickly turned to food: we talked brisket, chili, Shiner bock (which they drink from the bottle), and cornbread. When I told the wife that I had never made corn bread in a skillet, she replied, in a dramatic affected Southern accent, "Well, dahlin', if it ain't made in a cast-iron skillet, then it ain't cornbread."

She shared how her skillet had been in her family for three generations and how she wouldn't dream of making cornbread in a regular metal pan or glass baking dish. I would have loved to share a sentimental tale about my family's cast-iron skillet and corn bread recipe, but the truth is, we don't have one. Sure, my mom made cornbread, but it usually came from a Jiffy box, and I wasn't gonna tell that to the Texan with the third generation cast-iron skillet.

Although cornbread is a Southern staple, it comes in numerous regional variations across the country. Some of the most memorable ones I've had include a New Mexican cornbread studded with fiery hatch chilies, a New Orleans cornbread laced with Cajun spices and Cheddar cheese, and a North Carolina cornbread made with buttermilk and bacon. My favorite, however, remains the one I ate when I was a kid in New England: dense, sweet cornbread toasted with butter and drizzled with honey.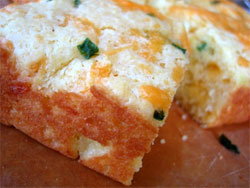 There aren't too many people who don't love cornbread. It's easy, versatile, and satisfying. It's delicious on its own, dunked in a bowl of hot chili, or used as a mop for excess bbq sauce on your plate. It can be simple and plain or chock full of add-ins such as bacon, corn kernels, and peppers. There's a corn bread to suit just about any taste.

This was made in a 9 X 9 inch square baking dish, not a cast-iron skillet. Sure, I could go buy one, but to me, that's one of those things that should be passed down in a family. And since my grandmother and mother cared a lot more about making gravy and meatballs than cornbread, skillets didn't feature prominently in our house.
Jalapeno Cheddar Cornbread
Makes 16 pieces
1 cup all-purpose flour
1 cup yellow cornmeal, preferably coarsely ground
1/4 cup sugar
4 teaspoons baking powder
3/4 teaspoon salt
2 large eggs
1 cup whole milk
1/4 cup canola oil
1 small jalapeno, finely chopped
1/2 cup corn kernels
1/2 cup sharp Cheddar cheese
1/4 cup fresh cilantro, finely chopped

1. Place rack in center of oven, and preheat to 425 degrees F. Coat a 9 X 9 inch square baking pan with cooking spray.

2. In a large bowl stir together flour, cornmeal, sugar, baking powder, and salt. Add eggs, milk, and oil. Beat with an electric mixer until just smooth, about 1 minute. Stir in jalapeno, corn, Cheddar, and cilantro.

3. Pour batter into the prepared pan. Bake for 20-25 minutes, or until the top is golden and a toothpick inserted into the center comes out clean.
Susan Russo is a free lance food writer in San Diego, California. She publishes stories, recipes, and photos on her cooking blog, <Food Blogga and is a regular contributor to NPR's <Kitchen Window. She is also the author of two upcoming books that will be published in the fall of 2010.