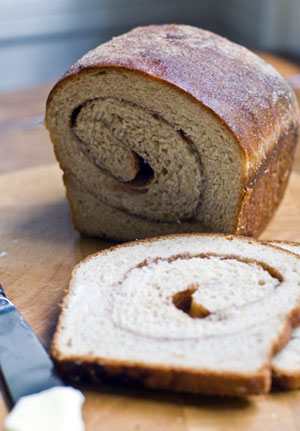 Patricia (Technicolor Kitchen) and I are at it again. She and I are having so much fun thumbing through our cookbooks, choosing our task, and baking goodies on our bucket list.
We both decided that this week we would bake from The Sono Baking Company Cookbook. This is one of my newest purchases and I have read it from cover to cover. I love this book and there are very few recipes I do not want to try. I cannot wait to make them all. Patricia chose to make hers with chocoate chips (I entertained that idea, but decided against it) and although she says the chocoalte was a bit too bitter, I kind of like the idea of bitter and sweet.
Who doesn't like Cinnamon Bread (with raisins, chocolate, nuts)? This is every bit as good as a cinnamon bread you would buy in the best bakery. I swapped out the white flour for whole wheat pastry flour and it was airy and light and perfectly balanced. The second day, we toasted it and slathered it with salted, organic butter. Comfort food at its best!
Cinnamon-Swirl Bread
Adapted from John Barricelli's book
Yield: 1 loaf
Ingredients:
dough:
3/4 cup (.25 oz) warm whole, warm (110-115*) milk
1 3/4 teaspoon active dry yeast
3 1/4 cup (17 oz.) whole wheat pastry flour
1/4 cup plus 2 Tbsp.(2 oz.) whole wheat flour
3 tablespoons rye flour (1 oz.)
3 tablespoons (1.25 oz.) organic cane sugar
1 tablespoon kosher salt
6 1/2 tablespoons (90g) cold, unsalted butter, cut into pieces
1/2 cup plus 2 Tbsp.(142g) water
filling:
2/3 cup organic cane sugar
1 tablespoon ground cinnamon
1 large egg, beaten for egg wash
1 tablespoon unsalted butter, melted
Instructions:
In a small bowl, pour the warm milk over the yeast and let it proof for 5 minutes.
In the workbowl of an electric mixer, combine the whole wheat pastry flour, whole wheat flour, rye flour, organic cane sugar, salt, and butter and beat on low speed until crumbly and coarse. Add the yeast mixture and beat on low speed until well combined. The dough should be tacky but not sticky, and should stick to the side of the bowl. If the dough is too dry (it will stick to the paddle), add a bit of water, 1 tablespoon at a time.
On an unfloured work surface, knead by hand for about 8 minutes. The more you work with it, the less tacky it will become. Pat the dough into a ball and place the dough smooth side down in a large, oiled bowl. Rotate the dough so both sides are covered in oil. Cover with oiled plastic wrap, and let rise in a warm place. The dough should rise 1 1/2 in size – 1 to 1 1/2 hours.
Deflate the dough, turn the dough in the bowl. Cover with plastic wrap and let rise again to 1 1/2 times, about an hour.
Make the filling and set aside.
Turn the dough onto an unfloured work surface and flatten into a 6″ x 14″ rectangle. Try to make as even as poosible so you loaf bakes evenly. Sprinkle the rectangle with the cinnamon sugar, reserving 1/3 of a cup for the top of the loaf.
Working from back to front (the 6″ length), roll the dough up into a coil. Place in a buttered 4 1/2″ x 8″ loaf pan. Cover with plastic wrap and let rise 45 minutes to 1 hour.
Preheat oven to 500°F. Place the loaf pan on a baking sheet, covered in parchment and reduce the heat of the oven to 375°F. Bake for 40-45 minutes, rotating the pan in the middle of baking (at 20 minutes, I rotated the pan).
The bread is done when you tap the top of the bread and it sounds hollow. Brush the top of the loaf with the melted butter. Sprinkle the top with the remaining cinnamon sugar. Turn the loaf on to a wire rack to cool. Eat warm with a pad of organic, salted butter and enjoy every bite.
Susan Salzman writes The Urban Baker blog to explore her dedication to good food in the hope of adding beauty to the lives of her family and friends.