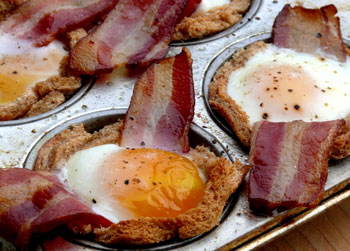 Wow, what an awesome idea this is for breakfast, or breakfast for dinner...or a snack. It's like the whole kit and kaboodle in one bite. Do you know how hard it is to have the bacon, eggs and toast done at the same time? Well of course you do, you've tried. It's a challenge.
So I guess this post has now saved you from morning despair and frustration. Lucky you. Oh let's not forget how good these taste....the buttery toast, the salty bacon, the runny egg (or not depending on how long you cook it).
It's just fantastic and a perfect solution to making breakfast for a lot of mouths. Once they are in the oven, get the coffee goin' and you'll have to time to take the curlers out of your hair before you take the kids to school. They will be very happy for that.
And they easily pop right out of the tin. So perfect.
Bacon, Egg and Toast Cups
Adapted from Martha Stewart
Serves 6 or more
Cooking spray
6 slices white or whole-wheat sandwich bread
1/4 cup butter, melted
6 slices bacon, preferably thick cut
6 large eggs
Coarse salt and fresh ground pepper
Preheat oven to 375°F. Spray 6 standard muffin cups with cooking spray.
With a rolling pin, flatten bread slices slightly and with a 4-1/4" cookie cutter, cut into eight rounds. (Now, most of us don't have a cookie cutter that large. Flatten your bread and place your largest round cutter on the bread and use as a guide to cut that size hole. 4-1/4" is pretty much what a piece of sandwich bread will measure when flattened. So, you are essentially cutting the largest round you can minus any crust.) Cut each round in half, then press two halves into each muffin cup, overlapping slightly and making sure bread comes up to edge of cup. Use extra bread to patch any gaps on bottom or sides. Brush bread with melted butter.
In a large skillet, cook bacon over medium, until almost crisp (I cooked my bacon in the oven for 6 minutes on 375°F.) The bacon will continue to cook in the oven. Lay 1 bacon slice in each bread cup and crack an egg over each. Season with salt and pepper. Place muffin tin on a rimmed cookie sheet to catch any bacon fat. Bake until egg whites are just set, 20 to 25 minutes.
Cathy is currently in the development stages of her vineyard and winery in the Willamette Valley of Oregon. She is a food writer for Davis Life Magazine and blogs daily about wine, food and everyday living. She lives with her husband and two sons. You can visit her at noblepig.com.