Colorado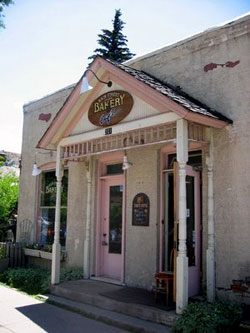 If there is one type of restaurant certain to make a list of things I adore, it's a cozy bakery and café. There is a peaceful and neighborly feel about such a place. Yes, Tiffany's is to Holly Golightly as cafés are to me – especially those with excellent coffee. Recently, on a long weekend trip to Aspen, I was ushered towards the Main Street Bakery and Café. In a town with quite a reputation for glitz and glamour, it was both interesting and refreshing to enjoy my very first Aspen breakfast in a very small house.
My friend and I had just walked inside, noticing all of the tables were full, when a waitress stepped up and took our coats, hanging them behind the door. We waited a few minutes and took the chance to admire the contents of the glass case, the shelves of which were filled with mounds of sinful pastries touting a just-baked appeal. The icing was still dewy on the Cheese Danish and the croissants were so fluffy they looked as if they were going to float right off the shelves. Then, at what seemed to be a few moments too soon, we were ushered to an open community table and seated with a local family of three. The family was incredibly friendly and on top of offering their own suggestions on how to spend our time in Aspen, they shared some of their favorite items from the menu as well. I began my breakfast with a tall iced coffee and a fresh squeezed orange juice – both were delicious.
Michigan


by

Mandy Blake





I have a vivid memory of my parents entertaining friends on Christmas Eve in 1982. My mother threw all of her Protestant tradition out the kitchen window and ordered Zingerman's pastrami on rye...

Read more...

Florida


by

Nancy Ellison





Our friend, Shiny Sheet Society Editor, Shannon Donnelly, can masticate on purple prose as well as any one I know: we are naught but a chew toy impaled on the incisors of the Cosmic Hellhound of...

Read more...

Los Angeles


by

Jo Stougaard





The Kogi Taco Truck made me miss being in my twenties. Especially over the last couple of months, since I started following their Twitter updates on my cell phone. Late at night I'd be in bed...

Read more...

Italy


by

Rachel Rader





I just spent my first night in Rome and wanted to share my dinner from last night. It was at Al Duello, a place a friend recommended. It was absolutely incredible.

It's a cute little place off a...

Read more...