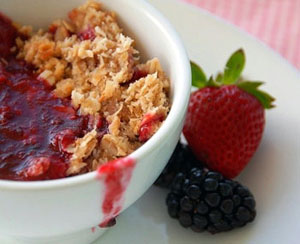 Serves 6

Crisp:
1/2 cup brown sugar
1/4 cup all-purpose flour
1/2 cup rolled oats
1/2 cup sweetened shredded coconut
1/4 cup chopped almonds or sliced almonds
1 teaspoon ground cinnamon
1/4 teaspoon ground ginger
4 tablespoons butter

Filling:
2 cups chopped rhubarb (about 1 pound), sliced into 1/2-inch thick pieces
1/2 cup granulated sugar
1/2 cup light brown sugar
1 cup fresh strawberries, chopped
1 cup fresh blackberries
1 cup fresh raspberries
1 teaspoon fresh ginger, minced
2 tablespoons cornstarch dissolved in 3 tablespoons water
2 teaspoons pure vanilla extract

Center a rack in the oven and preheat to 350 degrees F. Coat a 9-inch round pie dish with cooking spray.

To make the crisp, place the sugar, flour, oats, and coconut in a medium bowl, and using your hands, gently mix it, breaking up any large clumps. Add the almonds, cinnamon, and ground ginger. Toss gently. Pour melted butter evenly over the mixture, and gently stir with a spoon until well combined and moist.

To make the fruit filling, in a heavy bottomed saucepan over medium-high heat, add the rhubarb and allow to cook for 2-3 minutes (it will release water, so it won't burn). Add the sugars, berries, and ginger to the pan gently crushing the fruit with a fork or spoon. Once it reaches a boil, add the dissolved cornstarch. Return to a boil, whisking constantly, for 3-5 minutes, or until the mixture is thick. Turn off heat, and stir in the vanilla extract.

Pour the fruit filling into the prepared pie dish, and sprinkle the crisp mix evenly over the top. Bake for 45-55 minutes, or until the topping is golden and fruit filling is bubbling up around the edges. Allow to cool before serving. It's best served at room temperature or just slightly warm.
- Recipe courtesy of Food Blogga.