The Essential New York Times Cookbook
by Amy Sherman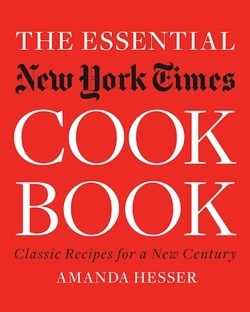 The Essential New York Times Cookbook

Proving that a cookbook does NOT need photographs to be successful, this is about tried and true recipes from a familiar source and very familiar names--contributors like Mark Bittman, Julia Child, Marcella Hazan, David Chang, Nigella Lawson. Good stuff!

Bookmarked recipes: Marinated flank steak with asian slaw, Roasted carrot and red lentil ragout, Cranberry upside-down cake

Why?
Hat's off to Amanda Hesser for compiling a fantastic set of reader approved recipes and creating new notes that will ensure success with each recipe.

Who?
Anyone who has loved reading the New York Times food section and is looking for solid recipes to rely on.
San Francisco


by

Amy Sherman





You may have eaten at Slanted Door or even at Out The Door either at the Ferry Building or at San Francisco Centre, but you're going to want to try OTD Bush in the Fillmore. In addition to many...

Read more...

Italy


by

Michael Tucker





Jill was done. For three weeks I'd been force feeding her on a take-no-prisoners march through the restaurants of Italy. I had all but nailed her feet to the floor. And then four days in Rome...

Read more...

Los Angeles


by

David Latt





Yabu, Il Fornaio and Musha are my favorite restaurants. They have great food and they're comfortable and affordable. I'd go to them every week if I could. Having said that, without realizing it,...

Read more...

Las Vegas


by

Amy Ephron





It's not about over-abundance, although it sort of is. I'm not the kind of person who loads their plate up full to the brim -- in fact, I don't even like it when my food groups touch, although...

Read more...