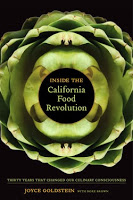 Most cookbooks focus on what's new, but not all of them. And there are definitely some advantages to looking back. These books are all about American cooking, but each takes a closer look at our culinary history and regional differences.
Inside the California Food Revolution: Thirty Years That Changed Our Culinary Consciousness
is an amazing book that details the "thirty years that changed our culinary consciousness." It WAS a revolution that took place in California, but truly the effects were felt all across the country. Joyce Goldstein was there, a successful restaurateur and chef as well as food writer and so her connections and knowledge of the time make this book really stand out. She tells the stories of the people who shaped what and how we eat in the crucial era from 1970 until 2000. Her admiration for the pioneers of the time comes through and her engaging style make this a must read. No recipes are in the book, but a number of menus that help document the time.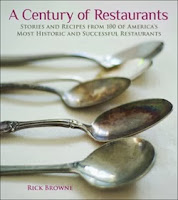 A Century of Restaurants: Stories and Recipes from 100 of America's Most Historic and Successful Restaurants
is another definite "keeper" because it combines food, history and travel. It must have been a very enjoyable book to research and write, because it catalogues stories and recipes from one hundred of America's most historic and successful restaurants. It's just good fun to look up iconic restaurants and read about them and see a recipe. For California the book includes Philippe the Original in Los Angeles, Duarte's Tavern in Pescadero. The Tadich Grill in San Francisco and Fenton's Creamery in Oakland. If you are planning a trip, it's a perfect book to reference before you go. Some of my favorite old time places are here such as Durgin Park and The Union Oyster House in Boston, Commander's Palace in New Orleans and Ferrara in New York. It's wonderfully researched and well written.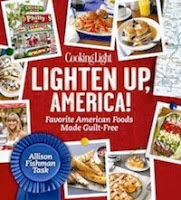 Cooking Light Lighten Up, America!: Favorite American Foods Made Guilt-Free
is a fun book of regional specialties, all given something of a makeover. The book has fresh favorites like Brussels Sprouts with Bacon and classics like Lobster Rolls, all with tips on how to lighten up the recipe without sacrificing flavor. The book also shares how some dishes became classics. You might be surprised to find things like Grilled Jalapeño Poppers and Pigs in a Blanket, but they are there. They've even updated Chicken Marbella from the classic Silver Palate Cookbook! I particularly like the pages on hot dogs, which show how they are regionalized from Hawaii to Chicago. The book has tons of photos, of dishes but also restaurants and cookbooks, ingredients and home cooks.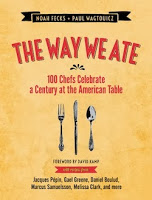 The Way We Ate: 100 Chefs Celebrate a Century at the American Table
calls upon one hundred chefs and food writers to share recipes they associate with a specific year or in some cases decade in American cooking, between 1900 until 2000. The connection of the recipe to the year may seem like a stretch but you can't argue with the results. You will want to try Michael White's Polenta con Ragu di Salsiccia or Ben Polinger's Raspberry-Cured Salmon with Salmon Tartare, Ginger and Meyer Lemon. I was a little dismayed at what seems like recipes only from New York based chefs and food writers. It would have been nice to have seen more contributors from beyond the 212 area code.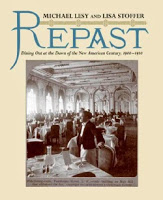 Not a cookbook at all, but a history book. Repast: Dining Out at the Dawn of the New American Century, 1900-1910
shares menus, photographs and the stories of the day as they pertain to the history and culture of cuisine. From the tenements of Chinatown to the stately hotels and presidential dinners, it's detailed with lots of anecdotes and stories you probably haven't heard before. Learn about early tea rooms where ladies dined and the precursors to fast food restaurants. Or how wealthy magnates threw lavish dinner parties transforming dining rooms and hotel ballrooms into farm yards, goldmines and miniature Versailles gardens. It's definitely for the history buff.
Amy Sherman is a San Francisco–based writer, recipe developer, restaurant reviewer and all around culinary enthusiast. She blogs for Epicurious , Bay Area Bites and Cooking with Amy .