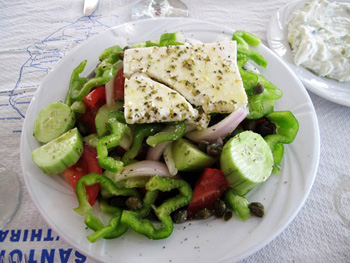 Vinaigrette:
3 tablespoons red wine vinegar
1 1/2 teaspoons lemon juice from 1 lemon
2 teaspoons minced fresh oregano leaves
1/2 teaspoon table salt
1/8 teaspoon ground black pepper
1 medium clove garlic, pressed through garlic press or minced (about 1 teaspoon)
6 tablespoons olive oil
Salad:
1/2 medium red onion, sliced thin (about 3/4 cup)
1 medium cucumber, peeled, halved lengthwise, seeded, cut into 1/8-inch-thick slices (about 2 cups)
3 ripe tomatoes, cut into wedges
1 green bell pepper, sliced
1/4 cup loosely packed torn fresh parsley leaves
1/4 cup loosely packed torn fresh mint leaves
10 large kalamata olives, each olive pitted and quartered lengthwise
6 oz. Mt. Vikos® Feta Cheese, or best feta you can find
1 teaspoon dried Greek oregano
Olive oil for drizzle
1. Whisk vinaigrette ingredients in large bowl until combined. Add onion and cucumber and toss; let stand to blend flavors, about 20 minutes.
2. Add tomatoes, bell pepper, parsley and mint to bowl with onions and cucumbers; toss to coat with dressing.
3. Transfer salad to wide, shallow serving bowl or platter; sprinkle olives and feta over salad. Drizzle with a little olive oil and sprinkle with dried oregano. Serve immediately.
- Recipe courtesy of James Moore