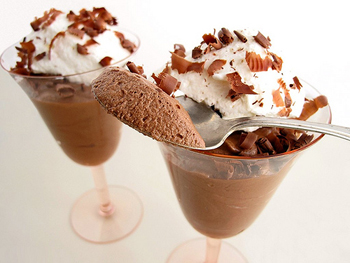 1 cup heavy cream
3 tablespoons unsalted butter
1 teaspoon instant espresso powder
6 ounces bittersweet chocolate, finely chopped
Pinch of salt
1 teaspoon pure vanilla extract
3 large eggs, separated
1 tablespoon granulated sugar
Whipped cream, for serving
Shaved chocolate, for serving

Whip the cream in a chilled bowl until soft peaks form.

Bring a pot with 2 inches of water to a boil. Turn off the heat. Set a bowl over the pot. Add the butter and stir until melted. Add the espresso powder and stir until dissolved. Add the chocolate and stir until melted. Let the chocolate cool to just body temperature.

Meanwhile, whip the egg whites in a warmed bowl until frothy. Add the sugar and continue to whip until stiff but not dry.

To the chocolate, stir in the salt and vanilla. Stir in the egg yolks, one at a time, until smooth. Fold in the beaten egg whites in two additions. Fold in the whipped cream in two additions. Divide the mixture among six glasses. Refrigerate for at least 2 hours. Serve each glass topped with whipped cream and chocolate shavings.
- Courtesy of Joseph Erdos