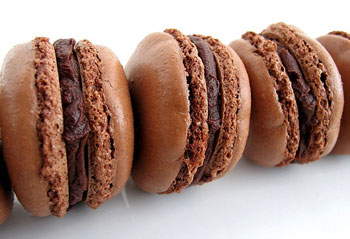 1 cup confectioners sugar
1/2 cup almond flour
3 tablespoons cocoa powder
2 large egg whites
1/4 cup granulated sugar
ganache filling, recipe follows

Preheat oven to 375 degrees F. Line a rimmed baking sheet with parchment paper or a Silpat.

Sift together dry ingredients: confectioners sugar, almond flour, and cocoa powder. Press any lumps or bits of almond through. Anything that does not go through should be discarded.

In the bowl of a standing mixer fitted with the whisk attachment, beat egg whites with granulated sugar until smooth, firm, and glossy.

Fold the dry ingredients into the beaten egg whites a little at a time until just combined and no white shows. Do not over mix.

Fill a pastry bag fitted with a plain 1/2-inch tip with the batter. Pipe 1-inch diameter coins onto the prepared baking sheet no more than an inch apart. Use a finger moistened with water to knock down any peaks. To even out any misshapen rounds, rap the pan against the counter. Bake for 10 to 12 minutes. Let cool completely.

To fill the macarons, spread each bottom with 1 teaspoon of chilled ganache filling and cover with tops, squeezing lightly. Yield: 15 sandwiched macarons.

Ganache Filling

1/2 cup heavy cream
1 tablespoon light corn syrup
4 ounces bittersweet chocolate, finely chopped
2 tablespoons unsalted butter
1 tablespoon coffee liqueur

In a small saucepan, heat cream with corn syrup over medium heat. Once cream is hot but not yet boiling, remove and pour over chocolate. Stir until chocolate has melted and is smooth. Stir in butter and liqueur. Chill for 15 to 20 minutes before using. Yield: 2 cups.
- Recipe courtesy of the Gastronomer's Guide.