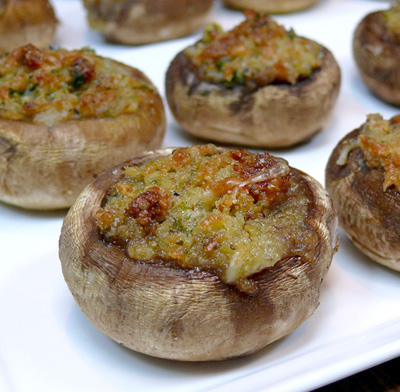 Happy Holidays! One of our favorite quick appetizers are these Italian Stuffed Mushrooms. They usually show up on the holiday table because they are so easy to make and serve.
You can even throw them together early in the day and bake them off right as guests are arriving.
Having a hot appetizer that is so easy to make is a godsend on party day. I often double the recipe because they disappear so fast.
I hope you have a great day, have to get back to cooking as I am going to be making my Lobster Bisque, it's just not Christmas without it.
Italian Stuffed Mushrooms
Recipe from: Created by Noble Pig | Serves: 2 dozen
Ingredients:
24 button mushrooms, stems removed, washed and dried
1 garlic clove, minced
1/4 cup Italian seasoned bread crumbs
1/4 cup (1 ounce) shredded mozzarella cheese
2 Tablespoons shredded Parmesan cheese
1 teaspoon dried parsley
3 Tablespoons butter, melted

1/4 teaspoon table salt
1/4 teaspoon coarsely ground black pepper
Directions:
Preheat oven to 425 degrees F. Prepare mushrooms by removing stems, washing and drying caps.
Combine the rest of the ingredients in a small bowl. Stuff the mushrooms and place on a rimmed baking tray that has been sprayed with cooking spray.
Bake for 15 minutes and serve immediately.
Cathy runs her own vineyard and winery in the Willamette Valley of Oregon. She is a food writer for Davis Life Magazine and blogs daily about wine, food and everyday living. She lives with her husband and two sons. You can visit her at noblepig.com.