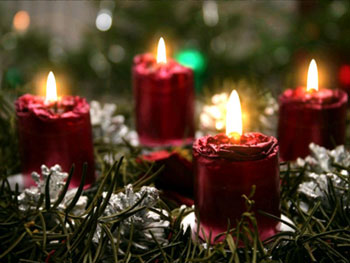 We have a traditional Christmas dinner. We've been doing it for twenty-two years. There are fourteen people involved - eight parents and six children – and we all get together at Jim and Phoebe's during Christmas week to exchange presents and make predictions about events in the coming year.

Each of us brings part of the dinner. Maggie brings the hors d'oeuvres. Like all people assigned to bring hors d'oeuvres, Maggie is not really into cooking, but she happens to be an exceptional purchaser of hors d'oeuvres. Joe and Phoebe do the main course because the dinner is at their house. This year they're cooking a turkey. Jane and I were always in charge of desserts. Jane's specialty was a wonderful bread pudding. I can never settle on just one dessert, so I often make three – something chocolate (like a chocolate cream pie), a fruit pie (like a tarte tatin) and a traditional plum pudding which no one ever eats but me. I love making desserts for Christmas dinner, and I have always believed that I make excellent desserts. But now that everything has gone to hell and I've been forced to replay the last twenty-two years of Christmas dinners, I realize that the only dessert anyone ate with real enthusiasm was Jane's bread pudding; no one ever said anything complimentary about any of mine. How I could have sat through Christmas dinner all this time and not realized this simple truth is one of the most puzzling aspects of this story.

A little over a year ago, Jane died. Jane was my best friend. She was also Maggie's best friend and Phoebe's best friend. We were all devastated. A month after her death, we had our traditional Christmas dinner, but it wasn't the same without Jane - life wasn't the same, Christmas wasn't the same, and Jane's bread pudding (which I reproduced, from Jane's recipe) wasn't the same either. (Although I also made the traditional plum pudding, which was exactly the same and no one ate it but me, as well as a peppermint pie, which was a big hit in my opinion, although looking back, I'm probably wrong about that too.) This year, when we opened negotiations about when our Christmas dinner would take place, I told Phoebe that I'd decided I didn't want to make Jane's bread pudding again because it made me feel even worse about Jane's death than I already did.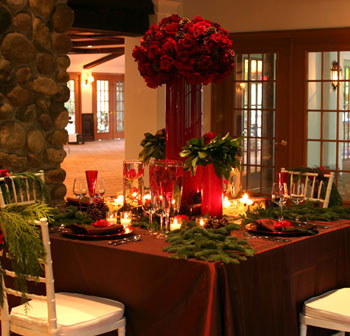 Anyway, we settled on a night for the dinner. But then Jane's husband Stanley announced that he didn't want to be there. He said he was too sad. He also said he'd never really cared about Christmas in the first place, which I thought was gratuitous. I tend to give a fairly wide berth to people who are recovering from the death of loved ones, but I felt truly bad that Stanley wasn't coming, and even worse when his son Zack also refused to come on the grounds that he'd promised to "support" whatever decision his father made about the event. I mean, really. Like it was NATO or something.

Since Stanley and Zack weren't coming, Phoebe decided to invite another family, so she asked Walter and Priscilla and their kids to join us. Walter and Priscilla are good friends of ours, but four years ago Priscilla announced that she didn't like living in New York any more and was moving, with the children, to England. Priscilla is English and therefore entitled to prefer England to New York; still, it was hard for me not to take it personally. But she and the kids were coming into Manhattan to join Walter for Christmas, and they accepted the invitation to our Christmas dinner. A few days later Phoebe called to tell me that she'd asked Priscilla to do one of the desserts. I was thunderstruck. I do the desserts. I love doing the desserts. I make excellent desserts. Priscilla hates doing desserts. The only dessert Priscilla ever makes is trifle, and when she serves it she always announces that she hates trifle and never eats it.

"But she will make her trifle," I said.

"She won't make her trifle," Phoebe said.

"How do you know?" I said.

"I will tell her not to make her trifle," Phoebe said. "Meanwhile, are you good at mashed potatoes?"

"Sure," I said.

"Bring mashed potatoes," Phoebe said, "because Joe and I don't have any luck with them."

"Fine," I said.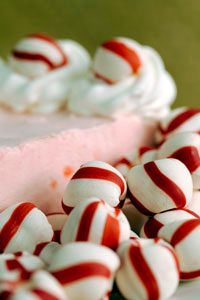 Several days passed, while I thought about what desserts I would bring to Christmas dinner. I read the new Martha Stewart baking book and found a recipe for cherry pie. I went on the Internet and ordered pie cherries from Wisconsin. I bought the ingredients for the plum pudding which no one eats but me. I decided to reprise the peppermint pie. And then a shocking thing happened: Phoebe emailed to say that since I was doing the mashed potatoes, she'd asked Priscilla to make all the desserts.

All the desserts? I couldn't believe it. I almost cried.

Instead I got into the bathtub and tried to decide how to respond to this new blow to my self-image.I was a legendarily famous cook and I'd been assigned to do mashed potatoes. How was this possible? I sat in the tub, missing Jane desperately. If she were alive, none of this would ever have happened. Clearly her death had released us all to be the worst possible versions of ourselves. It even seemed possible to me that Phoebe was using Jane's death to get me to stop making desserts; she'd probably been trying to do this for years; it was only a matter of time before I would be reassigned to hors d'ouevres, displacing Maggie, who would doubtless be relegated to mixed nuts.

I got out of the bathtub and wrote an email in reply to Phoebe. It said, simply, "WHAT?" I thought it was understated and brilliant and would get her attention.

Minutes later the phone rang. It was Phoebe. She wasn't calling about my email at all.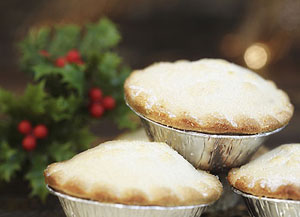 "I can't believe this," she said. "I just got an email from Priscilla in England saying that she's not actually making dessert. Instead Walter has gone to London and bought mince pies. He's bringing them to New York. I hate mince pies. I absolutely hate them. Didn't you once make a mince pie that no one ate?"

"It was a raisin pie," I said. "And I liked it."

"Mince pies!" Phoebe said. "Who's going to eat mince pies?"

"What are you going to do?" I said.

"I've already done it," Phoebe said. "I emailed her back and told her the mince pies were out of the question and that she should order a Yule log and a coconut cake from Eli's and just have them delivered to me. Mince pies. Really."

"I can't believe this," I said. "I think we must be talking about the cruelest woman on the planet."

"Who?" Phoebe said.

"You," I said. "Why am I not doing the desserts? I loved doing desserts. Last year my peppermint pie was a huge hit."

"I remember that pie," Phoebe said.

"This year I ordered cherries from Wisconsin," I said. "The shipping alone cost $52."

"If you want to bring dessert, bring dessert," said Phoebe.

"But we don't need desserts because there are mince pies and a Yule log – "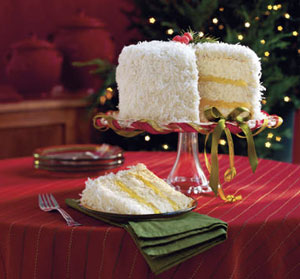 "And a coconut cake," said Phoebe. "We've got to have Eli's coconut cake. But you can bring anything else you want."

I hung up the phone. I was reeling. To make matters worse, I'd already gone out and bought four pints of peppermint stick ice cream for the peppermint pie I was definitely not going to make unless I wanted to prove that I was the all-time world champion in the can't-take-a-hint department of life.

The next day, Walter called. He'd just arrived in New York with the mince pies, only to discover that Phoebe had emailed Priscilla commanding her to scrap the mince pies and instead order the Yule log and coconut cake from Eli's. Priscilla was very upset, Walter said. She'd told Walter to call Phoebe and tell her to go fuck herself. Walter meanwhile was even more upset than Priscilla because he'd brought fourteen mince pies through customs and was bringing them to Christmas dinner come hell or high water. "I love mince pie," he said. "It wouldn't be Christmas without mince pie."

I know how he feels.
Jane's Bread and Butter Pudding

Twelve 1⁄2 inch-thick slices French or Italian bread, crusts removed and buttered generously on one side
5 large eggs
4 egg yolks
1 cup sugar
¼ tsp. salt
1 quart whole milk
1 cup heavy cream
1 tsp. vanilla extract
½ cup confectioner's sugar
1 cup heavy cream for serving

Preheat oven to 375° F. Butter a shallow two-quart baking dish.

Gently beat the eggs, egg yolks, granulated sugar and salt until thoroughly blended.

Scald the milk and cream in a saucepan over high heat. Don't boil. When you tip the pan and it spits or makes a sizzling noise, remove from heat and stir in vanilla extract. STIR GENTLY, don't beat, into the egg mixture until blended.

Overlap the bread, butter side up, in the prepared baking dish and pour the egg mixture over the bread. Set in a larger pan with enough hot water to come halfway up the side of the dish. Bake until bread is golden-brown, about 45 minutes until a sharp knife can be inserted and comes out clean. The bread should be golden. This can be done early in the day. Do not chill.

Before serving, sprinkle with confectioners sugar and place under the broiler. Don't walk away, this takes only a minute or so. Or you can use one of those crème brulee gadgets to brown the sugar.
Serve with a pitcher of heavy cream.
Nora Ephron is a writer and director who lives in New York City with her husband, writer Nicholas Pileggi. She is an excellent cook.
(originally published on The Huffington Post )