Chocolate Nemesis Cake
Preparation time: 25 minutes
Cooking time: 30 minutes

Serves Six

12 ounces dark baking chocolate, broken into small pieces
5 eggs
1 cup plus 2 tablespoons superfine sugar
2 sticks softened unsalted butter
2 tablespoons butter and 1 tablespoon all-purpose flour for the cake pan
1 cup water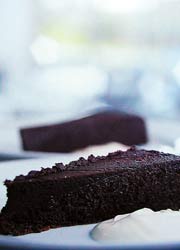 Preheat the oven to 300°F. Line an 8-inch diameter shallow cake pan 2 inches deep with nonstick baking paper, then grease it with butter and sprinkle with flour. Beat the eggs with one third of the sugar until the mixture quadruples in volume (this operation will require beating for around 10 minutes with an electric beater). Heat the rest of the sugar in a saucepan with 1 cup water until the sugar dissolves into a syrup. Add the chocolate pieces and the butter. Mix well. When smooth, remove from the heat and leave to cool. Pour the mixture over the eggs while it is still slightly warm and continue to beat gently until it is smooth (no more than 20 seconds). Pour the mixture into the prepared cake pan and place the pan in a roasting pan of hot water. The water must come right up to the top of the mold, so that the cooking is uniform.

Bake it for 30 minutes in the oven until it has set. Check for doneness by gently placing the palm of your hand on the surface. If it is not set, continue cooking. Cool the cake in the pan before turning upside down to unmold onto a cake plate.
Recipe by Rose Gray & Ruth Rogers
From the book Great Women Chefs of Europe
Colorado


by

Haley Schultheis





If there is one type of restaurant certain to make a list of things I adore, it's a cozy bakery and café. There is a peaceful and neighborly feel about such a place. Yes, Tiffany's is to Holly...

Read more...

Los Angeles


by

Lisa Dinsmore





I've studied wine for a decade and have worked on my palate, expanding my personal taste to include styles from all over the world. Red, white, sparkling, dessert. I've tried them all. Yet, when...

Read more...

Europe


by

Anna Harari





It was a Lonely Planet recommendation, but the description made it hard to tell – it was definitely trendy, but would it be good? We arrived, and it was, as promised, a scene. A hungover...

Read more...

Washington, DC


by

Alan Sandler





It was the best of climes…it was the worst of climes. Well, perhaps not either, but pretty damn cold.

A winter meeting in Washington: five days, four nights, and four dinners to review…

With the...

Read more...