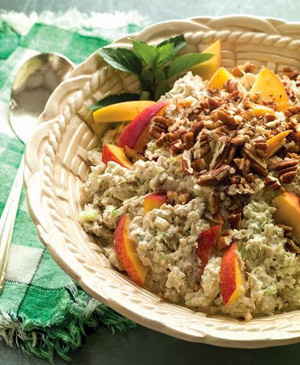 Recipe from A Time to Cook – Dishes from My Southern Sideboard
Photography by Helen Norman
This recipe can easily be doubled. Use peaches or apples that are in season and a good-quality mayonnaise – for Southerners, it's what your mama uses. Grapes make a nice garnish as well.
4 tablespoons butter
1 cup pecan halves
sea salt
6-8 peaches or 6 apples
lemon juice, optional
½ cup good-quality mayonnaise
2 cups cooked chicken, chipped or diced
6-8 sandwich rolls, or bread
Melt butter in a skillet over medium heat and toss pecans in melted butter. If using salted butter, add only a light sprinkling of salt. Toast pecans on the stove until they began to brown, tossing constantly so they don't burn. Or transfer buttered and salted pecans to a baking sheet and toast in a 300-degree F oven for just a minute or two, watching carefully. If you can smell them, you may have let them go too far! Remove from heat and set aside.
Peel, pit and chip peaches or core and chop apples. If need be, squeeze a bit of fresh lemon juice to keep them from turning brown. The mayo helps with this too.
Combine the chicken, peaches or apples, and pecans in a bowl and then bring it all together with the mayo. Mix well and serve.
Farmer's Note on Poaching or Sautéing Chicken: Cook 3 to 4 skinless boneless breasts in a quick stock with onions, celery, carrots, garlic, salt, pepper, parsley and chicken bouillon. Or just brown them in butter or oil with salt and pepper. Or, for fine garden flavor, roast the chicken with thyme or your favorite herb. When the chicken has cooled, chip or chop the bird.
- Recipe courtesy of James T. Farmer III from All Things Farmer.