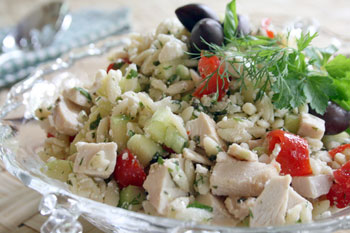 3/4 cup uncooked orzo
3 tablespoons extra-virgin olive oil
3 tablespoons freshly squeezed lemon juice
1 1/2 tablespoons red wine vinegar
2 chubby garlic cloves, minced
1/2 teaspoon salt
1/4 teaspoon freshly ground black pepper
2 tablespoons chopped flat leaf parsley
2 tablespoons chopped fresh oregano leaves
2 tablespoons chopped fresh basil leaves
1 tablespoon chopped fresh dill
1/3 cup thinly sliced green onions
1 cucumber, peeled, seeded, quartered lengthwise and sliced
1 cup grape tomatoes, quartered
2 cups chopped cooked chicken
1 (4-ounce) package crumbled feta cheese
Kalamata olives, pits removed, chopped
Cook orzo according to package directions.
While orzo is cooking, make dressing by combining olive oil, lemon juice, red wine vinegar, garlic, salt and pepper, whisking until well blended. Set aside.
Drain orzo. Rinse with cold water. Drain well. Transfer orzo to large mixing bowl. Pour some of the dressing over the orzo and toss to coat. Add chopped fresh herbs, green onions, cucumbers, tomatoes and toss. Add chicken and feta cheese and gently mix into the orzo mixture. Cover and refrigerate until serving time. Sprinkle with chopped olives.
At serving time, allow salad to warm up a bit at room temperature. Stir in more of the reserved dressing if necessary. Makes 4 to 6 servings.
Store remaining dressing in refrigerator.
One pound of cooked shrimp is a nice change from chicken.
Dried herbs can be used, but the flavor won't be the same in this orzo salad. A rule of thumb when replacing fresh herbs with dried is 1 teaspoon dried to equal 1 tablespoon of fresh.
- Recipe courtesy of Sue Doeden