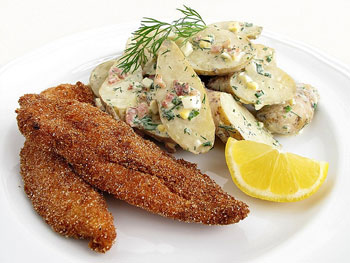 2-1/2 pounds chicken tenders or 2 boneless, skinless breasts cut into strips
fine sea salt
3/4 cup all-purpose flour
1 teaspoon paprika
2 large eggs
3/4 cup breadcrumbs
1/4 cup yellow cornmeal
1/2 teaspoon coarsely ground black pepper
canola oil, for frying

Liberally season chicken breasts with salt. Set on a plate, cover with plastic wrap, and refrigerate for 30 minutes to allow for chicken to absorb salt.

Prepare a station for coating the chicken. Combine flour and paprika on a plate. In a bowl, lightly beat the eggs. Combine breadcrumbs, cornmeal, and pepper on a second plate. Coat each strip first with flour mixture. Then dip one by one into the eggs. Finally coat the strips with the breadcrumb-cornmeal mixture, making sure to press the chicken into the mixture to coat all around.

Warm 1/2 inch of oil in a large saute pan set over medium-high heat. Once oil reaches sizzling point, add the chicken strips. Fry until golden brown, about 2 to 3 minutes per side. Remove to a plate lined with paper towels.
Yield: 4 servings.
- Recipe courtesy of Gastronomer's Guide