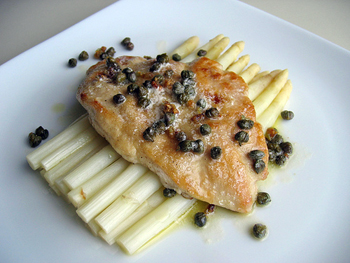 2 boneless and skinless chicken breasts
coarse sea salt
freshly ground black pepper
3 tablespoons Wondra flour
6 tablespoon olive oil
2 tablespoon butter
2 garlic cloves, grated
2 tablespoons capers, rinsed

Remove the breast tenders and reserve for another dish. Pound the chicken breasts between parchment paper to 1/2-inch thick. Season with salt and pepper and coat with flour.

Heat a heavy-bottomed pan over medium high. Add 3 tablespoons oil and chicken breasts; cook for 3 minutes per side. Remove chicken from pan and let rest.

Wipe out pan. Allow it to reheat on medium. Add butter and the remaining 3 tablespoons oil. Add garlic and capers. Saute until the garlic starts to take on color but not burn. Immediately pour sauce on top of chicken breasts.
Yield: 2 servings.
- Joseph Erdos