Prep time: 24 hours ahead, 1 hour cooking
Serves: 4
Whole chicken
Lime
Lemon
Orange
3 garlic cloves, chopped in quarters
1 whole onion
2 serrano chiles, deveined and halved
1 bottle of white wine
Chef Merito Seasoning*
Dutch Oven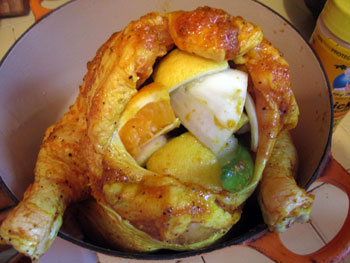 Begin by cleaning the chicken, removing the inners and patting it dry. Chop the fruit into eights, coarsely chop the onions, half the garlic cloves, half and devein the serrano chiles, then set these aside.
*Chef Merito seasoning can be found at most grocery stores, or Mexican markets. You can definitely substitute your own dry rub, but I found this seasoning to encompass a wonderful blend of flavors where I did not need any additional seasonings.
Season the entire chicken, inside and out thoroughly. Make sure to leave nothing unseasoned. You can also separate the skin from the breast and season the inside of the chicken.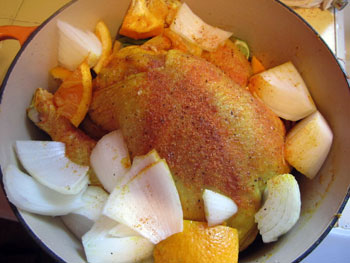 Once the chicken is seasoned, place it inside the dutch oven and begin stuffing the cavity with your chopped ingredients. Make sure you get as much of the citrus inside the chicken, even if you have to press it down and release the citrus juices.
Include the garlic, onions, and halved serrano chiles. If there are chopped ingredients left over, go ahead and sprinkle them around the outside of the chicken inside the dutch oven.
Cover the dutch oven with the lid, and store in refrigerator overnight. The next day, take out the chicken from the refrigerator about 2 hours before baking time to bring the chicken to room temperature. When it's ready to bake, pre-heat the oven to 400°F. Open the white wine bottle and fill the dutch oven with the bottle of wine. Any white wine will do, except sweet/dessert wines. Make sure the liquid is at about 3/4 of the way up the pot.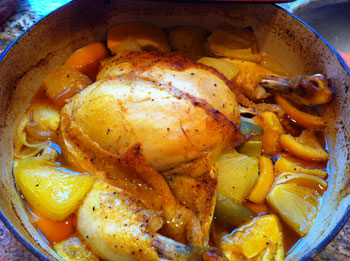 Cover with the lid, and place into the middle of the oven, and bake for 1 hour. This is when I begin to make my side dishes: Mashed potatoes and sautéed mushrooms.
When the chicken is done, remove from the oven and you will see something like this. Before I serve, I remove all of the stuffing and excess ingredients so that I'm left with the liquid, and the chicken. I serve the chicken skinless and use the liquid in the pot as gravy for my mashed potatoes.
I always pair a bottle of wine with this dish. I love that it's hearty enough to pair a Pinot Noir with it, or a complex white wine. Either way, you can't go wrong.
Enjoy!
- Recipe courtesy of Maylynn Morales